Avocado – Pear Toast
You've probably heard about the famous "Avocado toast" that's been very popular on social networks for some time! I have to say, I'm pretty seduced by this delicious snack myself! Those toasts are indeed very healthy and tasty snacks that can be declined in many ways! Today I want to share with you my sweet and savoury recipe which is a real delight (yes, trust me ) !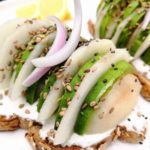 Print Recipe
Avocado – Pear Toast
Ingredients
2

slices of

cereal bread

1

avocado

½

pear

4

tbsp.

greek yogurt

1

lemon

1

tsp

chia seeds

1

tsp

sesame seeds

6

small

onion slices

salt, pepper
Instructions
Mix the greek yogurt with the juice of half a lemon. Season with salt and pepper and set aside.

Wash and peel the avocado and pear, cut them into thin slices.

On each slice of bread, spread the yoghurt and lemon mixture, then place the avocado and pear strips on top, alternating them. Sprinkle with a few drops of lemon.

Sprinkle the toast with chia and sesame seeds, then add three slices of onion on top of each slice of bread.
A flexible snack
These toast can be served as a snack, or as an appetizer but also as part of a brunch! They remain sufficiently consistent and satisfy well enough, which allows you to wait without any problem until the next meal! They also go very well for a light and healthy dinner, especially when you don't really want to cook in the evening!
An avocado and a pear: well ripe!
Be sure to choose a ripe avocado. It must not be too ripe or it will not hold well. It must be a little firm at hand. It's the same with the pear! That being said, I think this recipe would also go very well with apples…!
Tasty cereal bread!
For the choice of bread, it is up to you to decide! I used cereal bread. In general, I prefer wholemeal bread or cereal bread, I find that they have more taste and add a particular flavor! But of course you can use the kind you like the most, or the one you have on hand, it's up to you!
The greek yogurt sauce
Of course, the seeds and ingredients of the greek yogurt sauce can be adapted! It's really up to you ! But I must say that I particularly liked the avocado – pear association! The two flavours go perfectly together, and are well spiced up with lemon and onion! Anyway, try it and let me know !
---