Peanut Butter and Berries Overnight Porridge
You would like some breakfast but you don't have time? Do you want a healthy, quick breakfast that will keep you going until noon? I have the solution for you: overnight porridge! We've been seeing them for a few years now on the web, those famous "overdrive porridges" that everyone is crazy about! You probably knew the porridge (oat flakes cooked in water or milk) well, here is like its raw version !
This extra healthy breakfast is incredibly simple… The day before, soak some oat flakes with milk in a bowl and in the morning it's ready! The oat flakes are full of milk and all you have to do is add whatever you want to them! Don't hesitate with fresh fruits, oilseeds, seeds, dairy products, nut butters, or dried fruits !
This bowl full of vitamins, minerals and fibre is super healthy! Oat flakes are excellent for our health and have a very high satiety power! We say "bye bye" to the gurgling belly at 10 o'clock! It also gives the opportunity to eat fresh and seasonal fruits, it's even better!
I was already a fan of oatmeal, but I must admit that I loved the very cold and refreshing side of the overnight oatmeal when it came out of the fridge.
Here the mix of oat flakes, peanut butter, chocolate and berries is really …TO DIE FOR …in other words, a real killer 🙂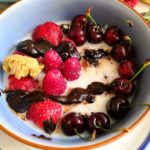 Print Recipe
Peanut Butter and Berries Overnight Porridge
Ingredients
40

g

oat flakes (small leaves) ( 1.41 oz )

120

ml

milk ( whole, non fat or almond milk ) ( 4 fl oz )

1

tbsp

peanut butter

20

g

dark chocolate ( 73% ) ( 0.7 oz )

1

tbsp

milk ( whole, non fat or almond milk )

4

raspberries

2

strawberries

10

cherries
Instructions
The day before breakfast, pour the oat flakes and the milk into a bowl. Stir a little. Cover with cling film and put in the fridge overnight.

In the morning, take the bowl out of the fridge and arrange the berries on the porridge.

Melt the chocolate with a little milk in the microwave and pour it over the porridge.

Add a tablespoon of peanut butter and enjoy!
---