French Chocolate Macarons
Looking for a sweet treat to enjoy ? You need crunchy, chewy and chocolate…? Then you need these all-chocolate macarons…! They're so delicious that I regretted making so few of them…. They're very easy to make, and so good …they're to die for … The macaron is excellent and the ganache is rich and brings an incomparable smoothness……! A real delight…
These little marvels go very well with a black coffee or for a snack with a hot tea! No really, you can't live another day without trying them !
How can you make macarons ?
It's actually not that complicated to make little macarons! There are just some steps to follow not to make a mistake! Here are a few tips to make amazing macarons!
The mixture of almond powder, icing sugar and cocoa must be sifted well, so that the preparation is very fine. This is important for the aspect of the macaron shells to be IMPECCABLE! Moreover, instead of a sieve, you can even use a coffee grinder to grind the preparation very finely, guaranteed result!
The egg whites and sugar must be very firm. The little trick, to know when it's ready, is to have stiff peaks on the whisk to check the whites!
It is also important to thoroughly mash the final preparation (with all the ingredients) on the sides of the bowl with a spatula, but only for a few minutes, not too long! This allows the air bubbles to be expelled from the batter in order to obtain PERFECT shells!
The shells must "dry" at room temperature for about 1 hour before being put in the oven. This is what will constitute the famous "collar" of the macaron.
Last but not least, the cooking is rather fast, in this recipe 5 minutes at 320°F (160°C) and 10 minutes at 270°F (130°C) . In any case, it doesn't take long to bake and the temperature should not be too high.
This delicious recipe makes 6 macarons, yes it's not much but so good!
Don't hesitate to double the quantities for more pleasure!
How can you make chocolate ganache ?
A ganache is actually very simple to make…! Good for us!! 🙂 It's simply a combination of chocolate chunks and heavy cream! Here I add a little butter to make it stick !
The principle is very simple, the previously heated cream is poured over the chocolate, which melts with the heat of the cream. It is necessary to mix well until you get a homogeneous mixture and then add the butter.
In this recipe, I use 40g of butter, but you can use less if you want something lighter!
Then you have to let it rest for a while, 1 to 3 hours, at room temperature or in the fridge (it's faster).
Finally, place the thickend ganache in a piping bag and you can start to garnish the macarons! 🙂 ooh joy !
Topping
Here the topping is optional, I simply melted dark chocolate with a little bit of heavy cream. I spread some of this melted chocolate on three macaron shells and sprinkled with chocolate sprinkles.
You can imagine any topping of your choice for these little macarons or add nothing at all!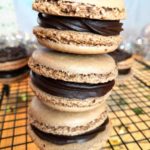 Print Recipe
French Chocolate Macarons
Ingredients
For the Macarons Shells
50

g

almond powder ( 1.76 oz )

40

g

powdered sugar ( 1.4 oz )

1

g

cocoa powder ( 1/4 tsp )

40

g

egg whites ( 1.4 oz )

(~2 eggs )

40

g

granulated sugar ( 1.4 oz )
For the Chocolate Ganache
80

g

dark chocolate ( 2.8 oz )

( chopped )

80

g

heavy cream ( 2.8 oz )

40

g

butter ( 1.4 oz )

( at room temperature )
Instructions
For the Chocolate Ganache
Bring the heavy cream to a boil and pour directly onto the chopped chocolate.  

Stir the chocolate until it is completely melted.

Then cut the butter into small pieces and add it to the chocolate. Keep stirring until the butter is well incorporated.

Lay a foil directly over the ganache and set aside at room temperature.
For the Macarons Shells
In a large bowl, combine almond powder, powdered sugar, and cocoa powder. Then sift the mixture, removing the larger almond granules if necessary. Set aside.

In another bowl, start beating your egg whites. After 2 to 3 minutes, gradually add the sugar. Stop beating when small peaks hold on the beaters.

Then add the almond powder mixture to the egg whites and mix well with the spatula.
Mash the preparation well on the sides of the bowl and then fold inwards, do this for 4 to 5 minutes.

Then pour the preparation into a piping bag and form circles on a baking plate covered with baking paper.

Leave to dry for 1 hour at room temperature. The surface of the shells will then harden slightly.

Then put in the oven for 5 minutes at 160°C / 320°F and then 10 minutes at 130°C / 270°F.
Take them out of the oven and leave to cool.
Assembling the Macarons
Pour the ganache in a piping bag, garnish a first shell and close it with another one. Continue until you have filled all your macarons.

you can leave them in the fridge for a few hours before eating them or bite into them directly …!

They can be kept for several days in the fridge in an airtight box, but I am not sure they will last that long! 🙂
---