Christmas Tree Puff Pastry Appetizer ( Pesto and Bell Pepper Cream )
Jump to recipe 👇
Watch the full relaxing and ASMR video recipe 🙏
Christmas is coming and you're probably wondering what you're going to prepare for your Christmas dinner! This is the classic but delicious Christmas Tree Puff Pastry: tasty, crispy, soft and very easy to make! This Christmas Tree puff pastry is made with pesto sauce and thick heavy cream with roasted bell pepper, a delight! This recipe is very simple and quick to make and is perfect for a Christmas appetizer!
The Puff Pastry
You can buy 2 separated sheets of puff pastry, either dicsc or square (it doesn't really matter, it just has to be big enough so you can shape a christmas Tree ), it's faster! But if you buy the dough in block, count about 17.6 oz ( 500g ), to have about 8.8 oz ( 250g ) of dough for each sheet.
The filling
In this recipe, I made a first filling with pesto sauce and tomato and a second one made with thik heavy cream and roasted bell pepper.
For this recipe I used ready-to-use pesto sauce, but you can of course do it yourself if you prefer!
The roasted and peeled bell pepper is really delicious, it really gives a unique taste to the heavy cream base. You can also prepare your bell pepper before you make your appetizer, even the day before if it is more convenient in your schedule (sometimes tight as Christmas approaches!).
If you can't find thick heavy cream, you can also use cream cheese, it will also work perfectly !
You can also add salmon or trout to the filling, it will also be very good!
Be careful not to make a filling too liquid, though, as it will sink of the branches of the tree once they have been cut.
You can also think of making this Christmas puff pastry in a sweet version with Nutella for example!
How to cut the tree
The cutting of the tree is very simple to make but not really easy to explain, so I suggest you go and see the video of the recipe where everything will be much more explicit!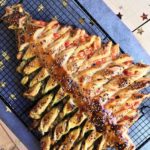 Print Recipe
Christmas Tree Puff Pastry Appetizer ( Pesto and Bell Pepper Cream )
Ingredients
2

puff pastry sheets ( at least 8.1oz each ~ 230 g )

2.8 oz

pesto sauce ( 80 g )

1

tomato

2.8 oz

thick heavy cream or cream cheese ( 80 g )

1

red bell pepper

1

egg yolk

1

tbsp

milk

1

tbsp

water

1

tsp

sesame seeds

1

tsp

flax seeds

salt, pepper to taste
Instructions
Preheat your oven to 200°C | 390°F on grill mode.

Wash the bell pepper and place it on an ovenproof baking sheet. Bake for 30 minutes. After 15 minutes turn it over.

Meanwhile, wash, peel and cut the tomato into small pieces.

Pour 2.8 oz ( 80g ) of pesto sauce into a bowl, add the tomato pieces and mix well, set aside.

Once the bell pepper is cooked, put it in a bowl and cover the bowl with foil, let it rest for 15 minutes.

Take out the bell pepper, remove the skin and seeds, and cut it into small pieces.

Pour 2.8 oz ( 80g ) of thick heavy cream or cream cheese into a bowl, add the chopped bell pepper, 1/2 teaspoon of salt and 1/4 teaspoon of pepper. Mix well and set aside.

Preheat your oven to 180°C | 350°F.

On a baking sheet, spread a first disc of puff pastry.

On one half of the dough, pour the pesto filling, leaving about 1 cm empty on the edge.

On the other half of the dough, spread the cream filling, leaving about 1 cm empty on the edge.

With a brush, wet with some water the edge of the puff pastry disc so that it can stick with the other puff pastry disc.

Lay the second puff pastry on the first one.

Press lightly on the whole disc to remove any air bubbles. Then press lightly on the edges so that the two puff pastry discs stick.

Start by cutting the dough into a triangle shape to give it the shape of the top of the tree and then join the bottom by cutting the trunk. To make it more easier, you can watch the recipe video!

Remove the falls. On one of them, remove a star with a star-shaped cookie cutter. Stick the star on the top of the tree.

Cut the branches of the christmas tree about 1 cm wide and make them into torsades.

Brush the whole tree with a kitchen brush and a mixture of egg yolk and milk.

Sprinkle the whole tree with sesame and flax seeds.

Cut the falls lengthwise and make them into torsades, brush them with the egg/milk mixture and put them in the oven also for 20 minutes.

This delicious Christmas Tree can be enjoyed hot or a little cooler !
---