Detox water : Cucumber, Lemon & Ginger
Spring will be here soon! So, I don't know about you, but I already have cravings for fresh and healthy drinks! So today, I made a " detox water " to make the good days come faster and to help my body to cleanse itself from all the food (often a little too caloric) of winter. This detox water is a real booster, participates in a slimming effect, flat stomach and fat-burning! All this in a glass, come on, don't hesitate!
The benefits of detox waters
The advantages of detox water are many! And here are some of them:
Flavoured waters keep you hydrated! As we all know, it is important to stay well hydrated throughout the day. So, you're going to say "you can hydrate with plain water", yes of course! But first of all, plain water is good, but it's a bit boring! Thanks to these "detox water", we stay hydrated with subtly flavoured water and, on top of that, we enjoy the benefits of infused fruits and vegetables!
Detox water also makes it possible, as its name suggests, to "detoxify" one's body. Indeed, every day, toxins accumulate in our body which can alter its proper functioning and cause headaches, nausea, or intestinal pain. These flavored waters are therefore very effective in purifying the body and freeing it from all stored toxins.
Fruits, vegetables and herbs soak up their flavours, vitamins and antioxidants for several hours in the water…! A real rejuvenation in a bottle! It can be consumed as soon as you wake up and throughout the day. It's also perfect to take it in a bottle at school, at work or on the road during the day!
It is very low in calories and its regular drinking during the day gives a little "appetite suppressant" effect, interesting if you want to lose the (small) superfluous kilos accumulated during the winter…!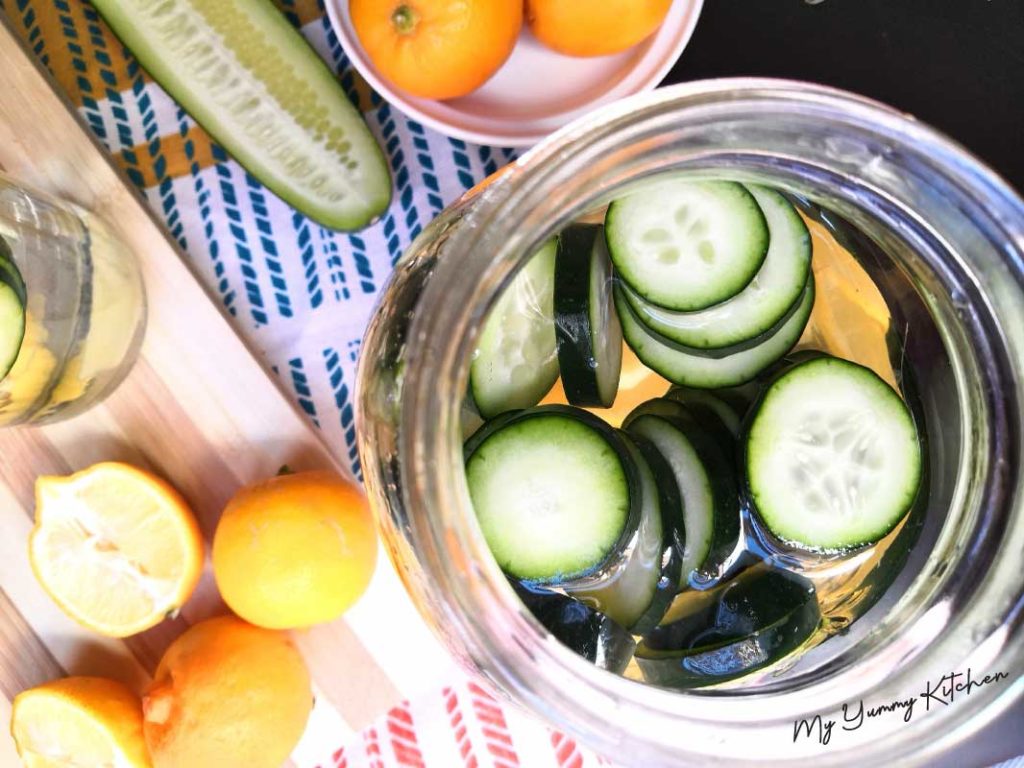 Organic or not ?
First of all, it can be specified that to make these detox waters, it might be better to buy organic fruits and vegetables. But if this is not possible, make sure to wash your fruits and vegetables thoroughly before using them.
Pour water, vinegar and salt into a basin. Let the fruits and vegetables soak for a few minutes. Then rub them with a small brush. Finally, peel the fruits and vegetables to remove the part most likely to contain pesticides.
FYI: Even if you buy organic fruits and vegetables, it is always best to wash them before eating them. At least with clear water, if not with vinegar!
The benefits of cucumber, lemon and ginger
Cucumber:
Cucumber is an alkalizing food, it is an excellent source of vitamin C and A (antioxidant), folate, manganese, molybdenum, potassium, silica, and sulfur.
It contains caffeic acid, it eliminates water retention through a diuretic action.
It also contains smaller amounts of B vitamins, phosphorus, sodium and calcium.
Cucumber helps the good renewal of the connective tissue: muscle, ligaments, tendons, etc.
It has anti-inflammatory properties.
Lemon:
Lemon facilitates digestion thanks to its detoxifying action.
It helps to limit flatulence (fat-burning action).
Rich in vitamin C and thanks to its antioxidants, lemon strengthens the immune system.
It is a true antiseptic, antibiotic and antiviral, very effective in the treatment of colds and sore throats.
Lemon stimulates the production of bile and evacuates the bad toxins present in the liver.
Ginger :
Rich in vitamins, minerals and trace elements, it helps to fight fatigue.
Ginger contributes to the proper functioning of the digestive system thanks to its specific enzyme that stimulates digestion.
It contains antioxidants, whose role is to protect cells from the effects of free radicals.
Ginger is a powerful anti-inflammatory.
It is effective against nausea and vomiting.
Thanks to its antioxidants, it is good for the heart and cardiovascular functions.
You get it, this detox water is excellent for your health! It brings us many vitamins and nutrients and it boosts our immune system! Perfect to help us finish the winter in good shape! It is also very effective as part of a slimming diet, to burn fat and regain a flat stomach! Thanks to its consumption, it is possible to lose weight and regain all the energy the body needs to be active throughout the day! Attention, it is of course necessary to have a enough healthy diet on the side of course!
When should you drink detox water and how to store it ?
Once the water and the fruit are mixed, wait at least one to two hours before eating it. Fruits and vegetables must have had time to macerate well in the water to enjoy all these benefits.
The consumption of this detox water is very simple. You can drink it as soon as you wake up. It's perfect to wake up your body after a long night on standby and give it a little boost. The body is given the first vitamins and minerals it needs, while enjoying a subtle and delicious flavoured water.
Otherwise, you can enjoy it throughout the day, before, during and after meals.
Drinking these infused waters is also useful for adults and children to replace all too sweet drinks such as fruit juices or lemonades, especially in summer!
And it's also a good alternative for an alcohol-free, light and fresh aperitif!
Be creative !
The great thing about detox waters is that you can put just about anything you want in: oranges, peaches, red fruits, herbs, spices, anything you have on hand! Don't hesitate to treat yourself !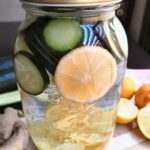 Print Recipe
Detox water: Cucumber, Lemon & Ginger
Ingredients
1

cucumber

1

lemon

8

slices

ginger

1.5

liter

water ( 50 fl oz )
Instructions
Wash the cucumber and lemon with water and vinegar.

Slice the cucumber and lemon and place them in a large jar.

Peel a piece of ginger and cut into 8 slices. Place them in the jar.

Then add the water and close the jar.

Place the jar in the fridge for at least an hour before tasting.