Extra Creamy and Cheesy Cauliflower Sauce
I bet you've never tasted such perfection yet…! This cauliflower sauce is a killer! Perfect for what? Well, for EVERYTHING: to pour on pasta, chicken or as a base sauce for pizza! It's also a good sauce that will match the keto diet, yes a good Keto-friendly. Once you've tried it, you will approve it! But what is this sauce actually? It is simply a cooked cauliflower mixed with cream and cheese…! This is the kind of sauce you should try while it's still in the blender… Believe me, you should try it !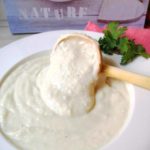 Print Recipe
Cheesy and Creamy Cauliflower Sauce
Ingredients
1

cauliflower

150

ml

heavy cream

2

cloves

of garlic

1

large onion

1

drizzle of olive oil

60

g

shredded cheese

salt, pepper
Instructions
Wash and cut the cauliflower into small bouquets. Cook for 15 minutes in a large pot of water. At the end of cooking, drain the cauliflower and set aside.

Cut the onion into small pieces and brown them in a pan.

In a blender, put the cauliflower, the onion, the heavy cream, the cheese, salt and pepper. Mix until you get a very smooth and creamy dough.
---