Fruit Parfait with its Caramel Sauce
This Parfait is well named…it's perfect! It's rich, it's creamy, it melts in your mouth… The biscuit brings a bit of crunch, the fruit, a bit of freshness, it's perfect I tell you! Here is a dessert very easy to make and really delicious. Very comforting when you just want to please yourself and/or your friends and family!
What ingredient should you use for the cream ?
For the cream of this Parfait, I use Philadelphia cheese. But in the end any cream cheese will do just fine, it doesn't really matter. If you want to make something lighter, you can even skip it, but it will be less tasty…!
For the whipped cream, you can use heavy cream.
Also, the bowl and the whisk or beaters you use must be very cold. In general, I put them in the freezer about 15 minutes before starting my recipe. The cold really helps the cream to be nicely and easily whipped.
Apple, pear or whatever fruit of your choice !
For this kind of dessert, I think it's nice to use seasonal fruit, so it's apple-pear! But you can use other fruits depending on your taste or what you have in your kitchen! You can imagine making this dessert with kiwi or tangerine …!
In summer, you can replace apples and pears with berries for example. That could be very good, right? Or with peaches, apricots or plums! Anyway, it's an easy dessert that goes with everything !
What biscuit should you use ?
For this recipe, I used shortbread cakes so they are rather simple, but they bring a little crunchiness and sweetness. Of course, you can use any biscuit of your choice: any kind of cookies, digestive biscuits or graham crakers !
Shiny and rich caramel sauce…
This sauce is a real treat… Here I use it for this Parfait but the beauty of this caramel sauce is that you can use it in many desserts: on pancakes or crepes, to make cupcakes or cakes, in a chantilly cream ! In other words, it goes with everything!
Homemade caramel sauce can easily be made ahead. Caramel sauce is great served warm, at room temperature or chilled with refrigeration. Refrigerate in an airtight container up to 2 weeks. You can warm it slightly to make it more drizzle-able.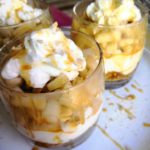 Print Recipe
Apple-Pear Parfait with Caramel Sauce
Ingredients
For the Parfait
200

g

Philadelphia (or any cream cheese of your choice)

100

ml

heavy cream

20

g

sugar

1

apple

1

pear

80

g

shortbread biscuits

20

ml

caramel sauce
For the Caramel Sauce
150

g

sugar

100

ml

heavy cream

20

ml

water

20

g

butter ( at room temperature )

1/2

tsp

sea salt
Instructions
For the Caramel Sauce
In a saucepan, pour the sugar and water. Mix well.

Then simmer over low heat and wait, without stirring, until the sugar changes colour (to brown). The sugar will then become liquid.

You can move the pan slightly so that the liquid sugar covers the remaining sugar crystals.

Once the sugar has become completely liquid and brown, remove it from the heat and pour in the heavy cream. The preparation will make bubbles, stir well until all the ingredients are well combined.

Once the mixture no longer bubbles and the cream is well incorporated, add the butter and stir until it is well melted.

Finally add the salt and stir for another 2 minutes.

Then pour your caramel sauce into a container and close it. You can keep your caramel sauce in the refrigerator for up to two weeks.
For the Parfait
15 minutes before making the recipe, put the bowl and the whip that you will use to make the chantilly cream in your freezer, so that it is very cold.

In a bowl, mix the Philadelphia cheese and the sugar with a whip until the ingredients are well combined.

Take the bowl and whip from your freezer, pour the cream in the bowl and start whipping the cream. Afetr 4 to 5 minutes, or when you see pics when you lift the whip, stop whipping. It's ready !

Add the whipped cream to the Philadelphia cheese gradually, and whip everything until the mixture is well combined. Set the cream aside.

Wash the apple and the pear, peel them and cut them in small pieces. Set aside.

Put the biscuits in a ziploc bag, close the bag and crush the biscuits with a rolling pin. Pour the powdered biscuits equally in three glasses.

Pour some caramel sauce on the inner rim of each glass.

In each glass, add the cream on the powdered biscuit, then the fruits and finally again some cream. Finally, pour some caramel sauce on top of the cream.
---