Garlic and Olive Oil Marinated Roasted Bell Peppers
Bell peppers are so good …! Whether they're green, red or yellow, they're delicious! You can prepare them in many ways, raw or cooked, they can be used in many preparations. Today, I share with you a very simple recipe of marinated bell peppers. In some recipes, I prefer peppers without their skin, like here, so I give you some tips on how to peel these great vegetable easily!
Health benefits of bell peppers
The bell pepper is perfect for a slimming diet ! Indeed, it is low in calories and full of taste. Raw or cooked, it fits in many preparations and is very easy to cook! The bell pepper is related to the family of chilli peppers. Those are hot peppers (often small, red or green, they are spicy). The bell peppers, which also are called "sweet peppers", no matter the colour, are good for us because they are :
Rich in antioxidants
Full of vitamin C
Rich in fibres
Good for intestinal transit
Limits the risk of certain cancers
3 different ways to peel a bell pepper !
You probably wondered how to peel bell peppers easily and quickly? So did I! With a raw bell pepper, there are not many solutions: the peeler ! So, you have to use a sharp peeler and don't press too hard or you'll peel the flesh too! Another small disadvantage, given the shape of the pepper, you won't always be able to peel it completely, there will necessarily be strips of skin left. This being said, a bell pepper can be peeled very well using other techniques that I will talk about below!
Peeling a bell pepper using the oven
Here, I'm sharing with you a very easy oven method. It's very handy if you have a lot of bell peppers to peel at once. In any case, even with only 3 or 4 peppers, I find this method very efficient. There is not much to do: the whole bell peppers, washed, bake in the oven (grill on ), for 30 to 40 minutes at 200°C | 390°F. During cooking, the skin will blacken in some spots and detach itself. You can also turn the bell peppers halfway through cooking to ensure that the effect on the skin is even. Once out of the oven, the skin comes off very easily!
So if I have time, I leave the bell peppers to cool down for an hour in a covered bowl, so that the moisture escaping from them helps to loosen the skin. But if you're in a hurry, when you get out of the oven, take a bell pepper and put it under running water while you remove the skin. This saves you an hour of waiting and the water helps to remove the skin.
Peeling bell pepper using gas flames of the stovetop
Another method, a little more quick: if you only have one or two bell peppers to peel, put it directly on the flames of your gas stove. Turn your gas stovetop flame to medium. Place the bell pepper on the grate directly over the top of the gas flame. The skin will burn, so turn the bell pepper regularly so that the skin burns evenly. Be careful, stay close to your stove, don't go do anything else ! When the skin is black everywhere, turn off the heat and you can peel the skin easily under water. The advantage of this method is that it is fast, and also it gives a little smoky taste to the bell pepper, it's delicious !
Peeling a bell pepper using a microwave !
One last method I haven't used yet is to remove the skin from the bell peppers with the microwave! It can be useful if you don't have an oven or a gas stove! Or simply if you prefer to use your microwave ! The bell peppers are washed and put whole in a covered microwave-safe container and heated for 5 to 8 minutes. Afterwards, let the bell peppers rest for an hour or so and it's the same, the skin comes off by itself!
Unlimited marinades
For this marinade, I made it simple and effective: olive oil and garlic…! Delicious, after a few hours, the bell pepper strips are delicately aromatized! These marinated bell peppers go very well with meat, carbs or vegetables. You can also cut them into small pieces and make dips with cream cheese, yoghurt or cream. These bell peppers will also go very well in salads or sandwiches, on toast and why not burgers?
Anyway, on this marinade base, you can make some modifications: Thyme, laurel, pepper seeds, spices, aromatic herbs, oils, citrus fruits, soy sauce. Long story short… Let your imagination go wild!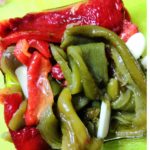 Print Recipe
Garlic and Olive Oil Marinated Bell Peppers
Ingredients
3

bell peppers

2

cloves of garlic ( minced )

3

tbsp

olive oil

1

tsp

salt

pepper to taste
Instructions
Preheat your oven to 200°C | 390°F( grill and fan ).

Wash the bell peppers and place the whole bell peppers on a baking sheet covered with baking paper.

Bake them for 30 to 40 minutes, placing the baking sheet on the highest position of the oven.

After 20 minutes, turn the bell peppers over so that they are cooked evenly.

After 30 to 40 minutes or as soon as the skin is black and/or detached, remove the baking sheet from the oven.

Place them immediately in a bowl and cover with foil. Leave to cool for 30 to 60 minutes.

Then take the bell peppers out and start removing the skin and seeds.

Cut the bell peppers into long strips and place them in a glass container.

Add the olive oil, minced garlic, salt and pepper. Stir lightly so that the bell peppers are well impregnated with the marinade.

Allow to sit for at least one hour for the flavors to mingle together. Can be served at room temperature.
---