Giant Cheeseburger with THE Ultimate Burger Sauce
All Burger Lovers raise your hands!!! You see that good burger dripping with delicious sauce? You just want to hold it in our hands and bite into it, don't you? I don't know about you, but I've been making burgers at home a lot over the years. And I've actually always been a little disappointed by the emotion I get when I bite into, "yeah, it's like a sandwich, you know…" With a steak, tomato, salad, pickles and ketchup, it's actually not very fancy… So I wanted to make a REAL BURGER and especially a REAL BURGER SAUCE…! AND THAT CHANGES EVERYTHING …! So, yes, there's a little cooking, it's not so quick to do,but it just gives you a PERFECT burger!
THE Ultimate Burger Sauce
You can't make this burger without this delicious sauce. In the end, I think a good burger also comes with a good sauce. That's really important, this is what adds taste and also smoothness to all the other ingredients! So ketchup is good, but we can do better!
This one is one example among others, of course, because you can think of making a sauce based on avocado, hummus, or even cashew cream! You just have to think about it and put together ingredients that will go well together!
Get the recipe of my Ultimate Burger Sauce, it is a life changer…! You'll see !
Caramelized Onions
To prepare caramelized onions, there's no secret: you have to take the TIME!!! You get caramelized onions because they are cooked very very very slowly and release the sugar they naturally contain! So you really have to take the time to let the onions cook until you get this "brown" colour. The spoon of honey is optional by the way, you can very well do without it!
A perfect mayonnaise
Make sure to use the egg yolk, mustard, vinegar, salt and pepper. All of these ingredients are important for the taste and texture of the mayonnaise. Once you have added the salt, make sure it is completly dissolved before pouring in the oil.
For this last step, two things: first pour the oil very gently, and in small quantities, and finally WHIP WHIP WHIP WHIP WHIP. You really need to whip hard and fast to get a nice mayonnaise!
Bread and Final steps
I used a burger bun I bought in a supermarket, it was quite big (handy to hold all this :D) and rather soft, so it was very good! But I'd really like to make the burger bun myself soon, so I put it in my "to do list"! By the way, if you have a homemade burger bun recipe, don't hesitate to make it for this recipe!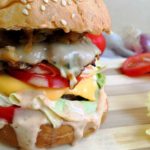 Print Recipe
Giant Cheeseburger with THE Ultimate Burger Sauce
Ingredients
For the Steack
120 g

ground meat ( 4.23 oz )

1/2

onion, grated

1/2

clove of garlic, grated

1/2

tsp

cumin

1/2

tsp

paprika

1

tsp

vegetable oil

1/2

tsp

salt

1

pinch of

pepper
For the Cramelized Onions
1

small

onion

1

tbsp

vegetable oil

1

tsp

honey

1

pinch

salt, pepper
For The Mayonnaise
1

egg yolk

1/2

tsp

mustard

1

tsp

vinegar

1

pinch

salt, pepper

200

ml

vegetable oil ( 7 oz )
For The Coleslaw
1

small

carrot

1/8

white cabbage

1-2

tbsp

mayonnaise
For the rest of the Burger
Instructions
For the Steaks
Mix the ground meat with the spices, grated garlic and onion, salt and pepper.

Form two rather thin steaks.

In a frying pan over medium heat, put a teaspoon of vegetable oil and cook the steaks.

Cook for a few minutes on each side and set aside.
For The Caramelized Onions
Cut the onions into thin slices.

In a frying pan over low heat, pour a tablespoon of vegetable oil and add the onions.

Pour a little water and the teaspoon of honey. Cover and cook for 30 to 40 minutes, stirring occasionally. You can add water if necessary during cooking.

When the onions are brown and soft you can stop cooking and set aside.
For The Mayonnaise
In a bowl, pour an egg yolk and mustard. Mix well.

Then add the vinegar, salt and pepper and whisk well until the salt is completely dissolved.

Add a drizzle of oil and whisk well.

Pour the oil in very small quantities until the desired amount of mayonnaise is obtained (20 cl is just a general indication).

Whisk well all the way through so that the mayonnaise is nice and firm.
For the Coleslaw
Wash the carrot and cabbage. Peel the carrot and cut it and the cabbage into very thin slices.

Mix the carrot and cabbage slices with one to two tablespoons of mayonnaise. Set aside.
To assemble the Burger
Just before assembling your burger, put your steaks back in the pan over low heat and put two slices of cheese on each steak to melt them by covering the pan with a lid.

Spread the Burger Sauce generously over the base of the burger bun. Then place two slices of tomato and a lettuce leaf.

Then place a first steak and its melted cheese, then again two slices of tomato, a tablespoon of coleslaw, then the second steak and its cheese and finally a nice tablespoon of caramelized onions.

On the top of the burger bun, spread one or two tablespoons of Burger Sauce.

You can hold it all together with a wooden skewer.

Finally, sit down at the table, bring one or two paper napkins, and … BITE!
The description of the burger assembly is exactly as I did, but of course you can put all the ingredients as you like, it doesn't really matter! Anyway I hope you'll enjoy it as I enjoyed it!
---