Lime & Raspberries Cheesecake
The good thing about cheesecakes is that you can have them in an infinite variety of flavours … here lime and raspberry, a real treat. I love cheesecakes especially when spring comes and you're looking for a slightly fresher dessert with seasonal fruits! The raspberry season is coming soon, that's a good timing! I love the freshness and creaminess of this cake and its acidity mixed with the slightly sweet crunch of the biscuit …!
What biscuit should you use ?
This time, I used "Palets Bretons", those french shortbread cakes are really tasty and perfect for a cheesecake base. You can however use several types of biscuits according to your tastes: any kind of shortbreads, speculoos, digestive, Graham Crackers… The most important thing is the taste you want to find. After that, the idea is the same, the biscuits will be reduced to powder and mixed with melted butter to form the base of the cake.
You can also add cereals, oilseeds or spices: puffed rice, oats, cinnamon, almonds, hazelnuts… There aren't really any rules, we have a lot of possibilities!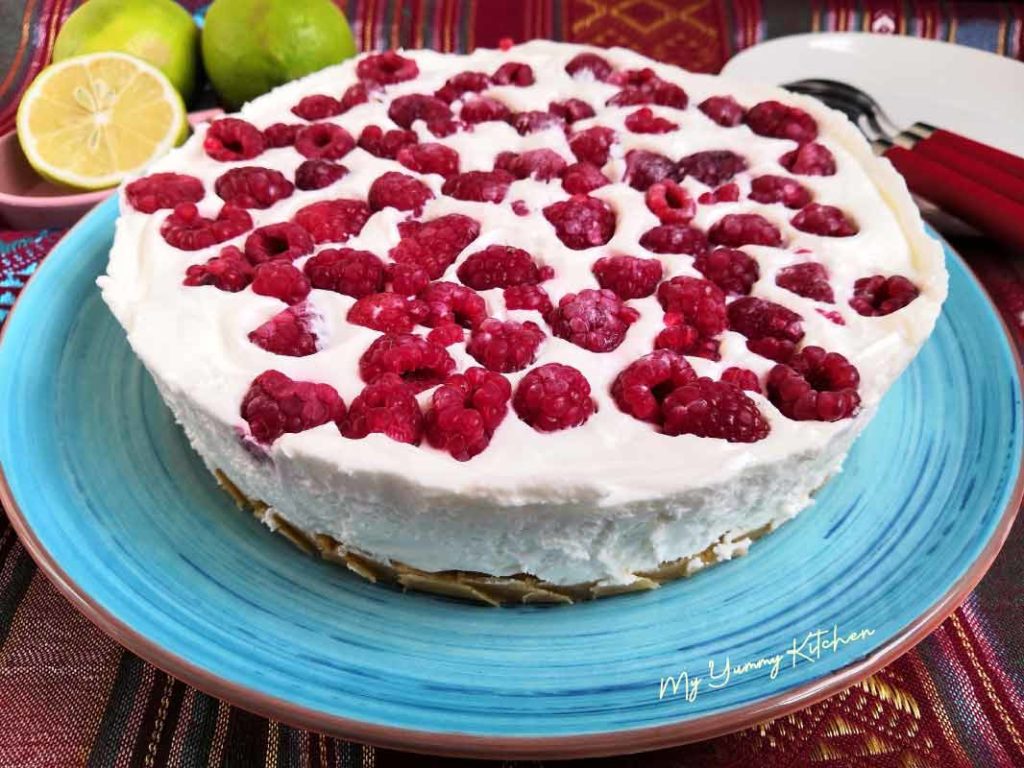 What is the difference between lemon and lime?
When I wanted to make this raspberry cheesecake, I happened to have some limes in my fridge! I figured it'd be a change from the traditional lemon! But what's the difference between lemon and lime? I'll tell you more!
Although both fruits belong to the citrus family, they do not come from the same tree. Lemon is the fruit of the lemon tree. We sometimes call it the "sweet lemon" because it is perhaps the least acidic of the lemon varieties! It is oval in shape and has a thick rind. The lime is not an unripe lemon! Lime is the fruit of the lime tree. Lime has a thin green rind and is usually smaller and rounder than the lemon. It is not always as juicy as the lemon, but it is much more acidic and often more fragrant!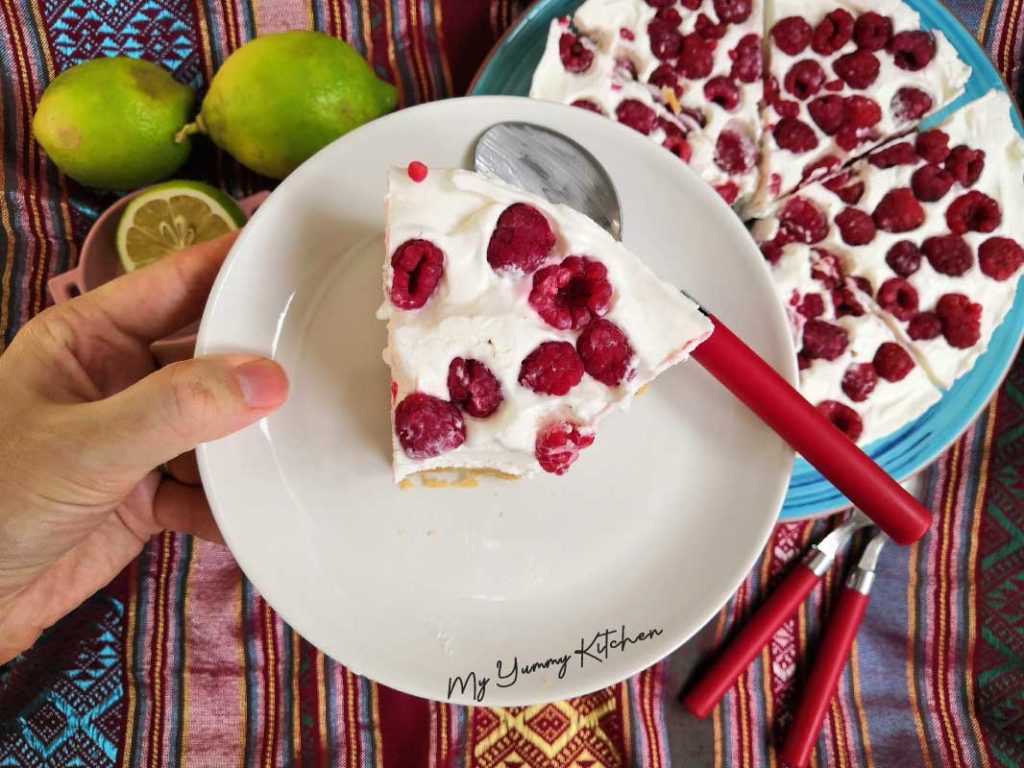 We use both types of lemons a lot in cooking. Lemons are often used to replace vinegar in dressings or to spice up sauces. Lime is very often found in sweet recipes, such as sorbets, pies or mousses, because it is a little more aromatic. We also use a lot the zest of these two lemons which brings a real twist to preparations, whether sweet or salty. In this case, it is preferable to use organic lemons, if not, they should be washed well before removing the zest!
These two types of lemons are relatively similar in their nutritional composition. Both fruits contain vitamins A and C, folic acid, potassium, antioxidants and flavonoids that may prevent cancer. However, the lemon contains more vitamin C and the lime contains more vitamin A! Despite their acidic taste, these fruits are alkalizing once ingested and help eliminate toxins from your body.
What ingredients should you use for the cream batter ?
The cream part
My basic cheesecake recipe is always made with cream cheese and heavy cream! But you can also use greek yogurt for example.
Equivalences gelatin leaves and gelatin powder
To make the whole thing stick, I use 2 gelatine leaves, about 2g ( 0.07 oz ) each. Using them is really very simple: first you have to soak them in cold water to make them soft, make sur to use COLD water, if you use hot water the leaves will dissolve! Once they are quite soft, squeeze them in your hand and you can melt them in a hot preparation by stirring to dissolve them.
If you don't have gelatin leaves, you can use powdered gelatin, following those instructions :
One packet (1 tablespoon) of powdered gelatin is equivalent to ( about ) four gelatin leaves. Those instructions also depend on the weight and power of the gelatin leaf.
Another methode is to convert by weight : replace the gelatine leaves with an equivalent amount of powder using a scale.
Raspberry
The raspberry season is coming up! It starts at the beginning of April and ends in November! I love its bright color and texture! Raspberries are low in calories, but are very rich in minerals, especially potassium and magnesium. It also contains vitamin E and fibers. Anyway, starting in April, don't miss out on tasting these good little berries!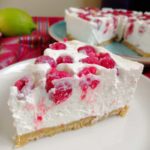 Print Recipe
Lime & Raspberries Cheesecake
Ingredients
150

g

Palets Bretons or any shortbread of your choice

( 5.3 oz )

80

g

melted butter

( 2.8 oz )

250 g

g

cream cheese

( 8.8 oz )

200

ml

heavy cream

( 7 oz )

1

lime (juice)

2

gelatine leaves ( 2 g each )

( 0.07 oz )

80

g

sugar

( 2.8 oz )

150

g

fresh raspberries

( 5.3 oz )
Instructions
To start, put a large bowl and the beaters from the mixer in the freezer. They will be used to whip the heavy cream.

Put your shortbreads in a freezer bag, close it tightly and crush them with a rolling pin to reduce them to powder (you can also use a chopper or a mixer). Pour the biscuit powder into a bowl and set aside.

Melt the butter in the microwave oven and pour it into the biscuit powder.

Mix well and pour the mixture into a cake pan ( 20cm – 8'' ) previously covered with baking paper.

Press the biscuit well with a glass or a spoon so that the base is well compacted. Set aside in the fridge.

In a large bowl, pour the cream cheese and sugar, mix well. Set aside.

Soak the gelatin leaves in cold water to soften.

In a small saucepan, heat the lime juice, once hot turn off the heat and put the loose gelatine leaves in it.

Mix vigorously with a whisk until the leaves are completely dissolved in the juice.

Pour the juice into the cream cheese mixture and mix well.

Remove the bowl and beaters from the freezer, pour the heavy cream into the bowl and start whisking. When the cream is well whipped, pour it into the cream cheese mixture and mix gently so that it is well incorporated.

Take the cake pan out of the fridge and pour the cream mixture over the biscuit. Wash and dry the raspberries and spread them on the surface of the cheesecake, pressing them lightly with your hand.

Cover with cling film and set aside in the fridge for at least 6 hours, one night is perfect!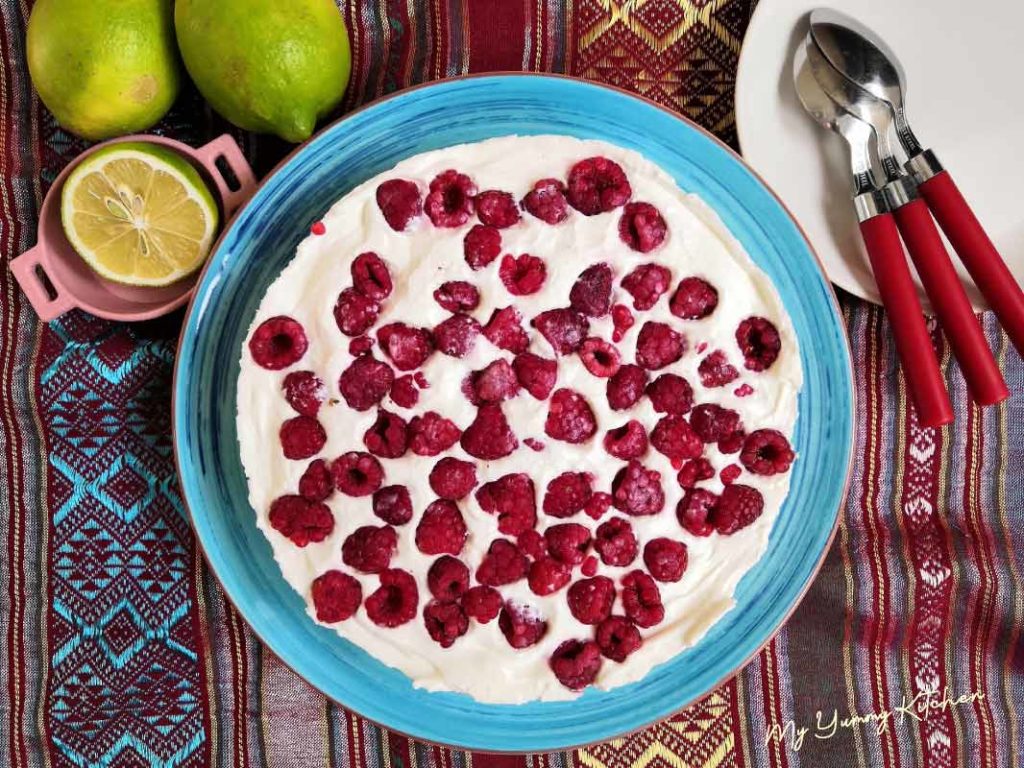 ---