Oat Flakes Cakes with Chocolate Filling
These little oat flakes cakes are just delicious! And when you add the chocolate, it's even better! But to be honest, they're delicious even without the chocolate! In this recipe, the oat flakes give us energy and the sugar is very limited! So enjoy!
The benefits of oat flakes
With oat flakes, it's funny, there are the unconditional fans and there are those who sulk these sweet little flakes! And yet, they are excellent for our health! Full of nutrients, they are used in many preparations: cookies, cakes, granola, smoothies, oatmeal, pancakes and muffins. I always say: try them and you will never be tired of them!
Oat flakes help transit: rich in insoluble fibre, they help reduce constipation and improve digestion.
They increase the feeling of satiety: the flakes are digested very slowly, so no more mid-day cravings! It is an indispensable food if you want to lose weight without being hungry all day long!
They regulate insulin production: rich in beta-glucan, they reduce the intestinal absorption of carbohydrates. Blood sugar drops as the meal progresses. As a result, the body also needs less insulin and therefore produces it less. In fact, oat flakes are often recommended for diabetics!
They are good for our skin: rich in vitamin E, they have a strong antioxidant power and act directly on the cells of the epidermis.
Rich in iron, calcium, phosphorus, magnesium, potassium and many other minerals, they are excellent for the functioning of the body!
Chocolate, peanut butter, jam…
I used melted chocolate to fill some of the cakes, but it's true that they were also very good without it! So if you want to add a touch of sweetness, you can make melted chocolate. I used 73% dark chocolate but you can use milk chocolate if you prefer!
You can also put something else than chocolate like peanut butter for example! I haven't tried it but I'm sure it must be delicious !
Of course if you have homemade jam, don't hesitate to use it.
A lower-sugar and tasty snack
kids and grown-ups will appreciate these little cakes! They give the chance to eat oat flakes and they are practical to carry, especially without the chocolate! In a small box, to take to work or school, they will make a perfect snack!
The recipe makes about 20 cakes, for a little less than 60 g of sugar, which is pretty reasonable, so treat yourself!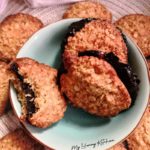 Print Recipe
Oat Flakes Cakes with Chocolate Filling
Ingredients
100

g

oat flakes ( 3.5 oz )

20

g

oat bran ( 0.7 oz )

15

g

flour ( 0.5 oz )

1

egg

30

g

butter ( melted ) ( 1 oz )

20

g

olive oil ( 0.7 oz )

50

g

sugar ( 1.7 oz )

1

tsp

vanilla extract

1

tsp

baking powder

30

g

dark chocolate chips or bars ( 73 % ) ( 1 oz )

1

tbsp

milk
Instructions
Preheat your oven to 180°C | 350°F.


In a large bowl, pour the oat flakes, oat bran, baking powder and flour.

Then add the sugars and mix well.

Then, add the melted butter, oil and egg. Mix well.

On a baking sheet covered with baking paper, place balls of dough and flatten them a little with a spoon.

Put them in the oven for 11 minutes.

Take the baking tray out of the oven and let it cool for a few minutes.

If you wish to add chocolate, melt the chocolate with a little milk in the microwave.

Then coat one side of a cake with the melted chocolate and stick another cake on the chocolate side.
---