Oven roasted eggplant
I really like eggplants. They are tasty and melting, it's one off the vegetables I like to cook! Baking them is probably my favorite method! Indeed, it is often recommended to cook the eggplants in round slices in a pan. But this method of cooking requires a lot of oil to avoid the eggplants burning. They are also saturated with oil, which makes them very oily and not very digestible! So here is this recipe for baked aubergines, Grilled and very tasty! For people who are looking for more fat (keto diet) you can add some fresh olive oil or coconut oil after serving them in your plate.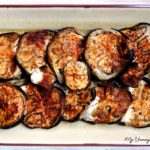 Print Recipe
Oven roasted eggplant
Ingredients
2

eggplants

1

tsp

of Paprika

1

tsp.

of cumin

1

tsp.

of turmeric

½

tsp.

of salt

1

pinch

of pepper

4

tbsp.

of olive oil
Instructions
Preheat your oven at 180°C.

Wash the aubergines and peel them, leaving a strip of skin on two. Cut the slices not too thick. Set aside in a bucket.

In a bowl, add the spices, salt, pepper and olive oil and mix very well. Then pour the contents of the bowl over the aubergines and mix them well.

Arrange the eggplants on an ovenproof baking sheet covered with parchment paper, then bake for 40 minutes at 180°.

Enjoy it as soon as it comes out of the oven
Baking the eggplants in the oven makes them really melt-in-the-mouth and really not much oily! Adding spices level up the seasoning, it tastes very good!
You can of course vary the spices according to your own preferences. I must say that I often change the types of seasonings so that I don't always get the same taste.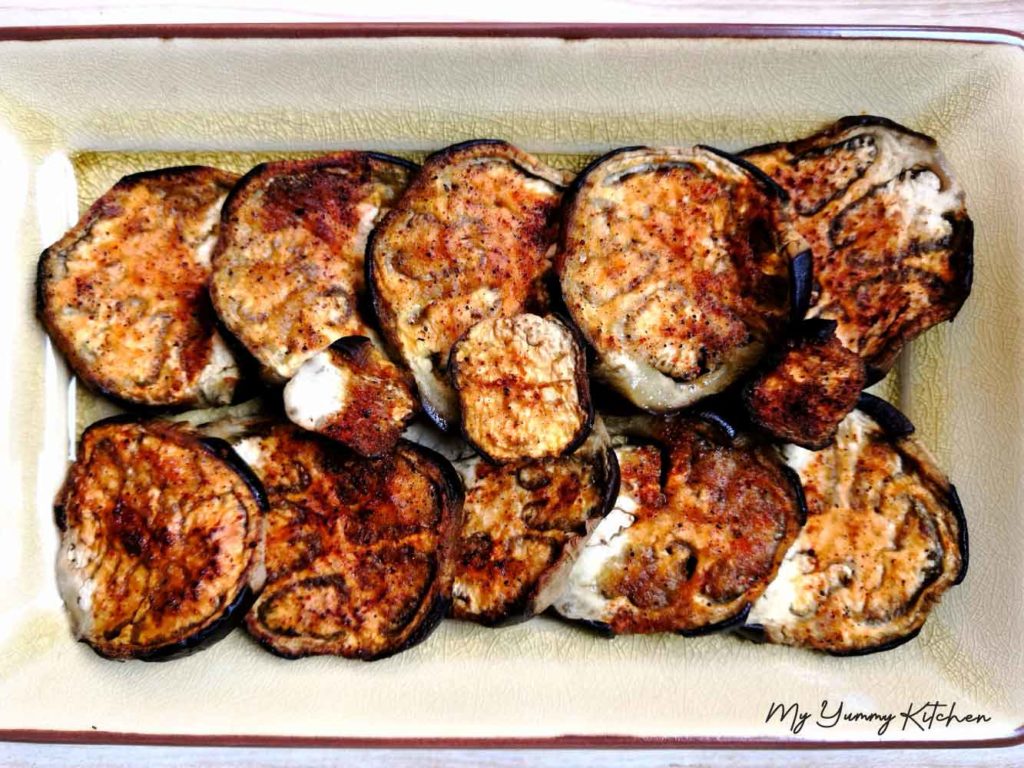 If you don't want to add oil to the cooking, it's possible, this way they will be really very healthy! You can also use coconut oil instead of olive oil, which will give a yummy exotic taste to your aubergines. Moreover, it will be more resistant to heat from the oven, and you will get the benefits of this very special oil!
If you are on the ketogenic diet, this dish will be very suitable for you! In that case, don't worry about reducing the oil! You can even add a pinch of cheese to the slices 2 minutes before the end of the cooking time!
These eggplant slices are a perfect accompaniment to many dishes, whether it's meat, eggs or other vegetables! In any case, it is a low-calorie meal that can be enjoyed for dinner, alone or with a friend!
---
---