Zucchini + Spaghetti with Creamy Avocado Sauce
Today, I'm sharing a pretty original recipe with you! Wheat and zucchini spaghetti with avocado sauce! Yes, we're not used to eating pasta with this kind of sauce, but I wanted to explore a different path! And it's a great surprise: the sauce is so creamy, it's delicious and very tasty! But let's think… you like spaghetti, don't you? Do you also like zucchini and avocado? Then you'll like this recipe, trust me !
The spaghetti in this recipe is a mixture of standard wheat spaghetti and zucchini spaghetti. I made the zucchini spaghetti using a julienne peeler, which I run along the entire length of the zucchini to make long filaments. If you have a spiralizer it's even better! If you don't have either one, try cutting the zucchini into thin slices lengthwise and then into fine filaments to make like spaghetti.
By the way, if you want to make a really light and low carb dish, don't use wheat spaghetti! Make this recipe only with zucchini! It will also be excellent!
For the avocado sauce, try to find well matured avocados, it will only get better! You can also very well add any spices you like.
Don't hesitate to add cheese on top, either gruyère or parmesan cheese for a little more taste!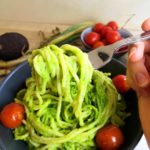 Print Recipe
Zucchini + Spaghetti with Creamy Avocado Sauce
Ingredients
For the pasta and topping
200

g

wheat spaghetti ( 7 oz )

2

zucchinis (preferably long)

10

cherry tomatoes

1

tbsp

olive oil
For the avocados sauce
2

avocados

1

tbsp

olive oil

1

small

onion

1

small

bunch of parsley

1/2

lemon ( juice )

1

clove of garlic

salt, pepper to taste
Instructions
To prepare the sauce, put all the ingredients in the blender and blend until smooth enough. Then set aside.

In a pot of boiling water, cook the spaghetti for 9 to 10 minutes. Then drain and set aside.

Wash and peel the zucchini and use a julienne peeler to make spaghetti. Wash the cherry tomatoes.

Pour a tablespoon of olive oil In a skillet over medium heat, , then add the zucchini spaghetti and the cherry tomatoes. Cook for 5 to 6 minutes. Then set aside.

Then in the same skillet, mix the spaghetti, zucchini and sauce together. Heat for 2 – 3 minutes.

Lay the mixture on two plates and add the cherry tomatoes on top. Enjoy!
---