How to make strawberries, crumble and creamy verrines
This little verrine is a real treat in a glass! The crumble is crunchy and delicious, the greek yogurt brings sweetness and the strawberry compote gives the fruity side! A real treat for a gourmet dessert after a meal!
For this recipe, I really wanted to have like a little cake in a glass. That's why I made a crumble! It's very tasty and crunchy, the mixture of the three preparations is really delicious! Now, if you want something lighter than a crumble, like crushed biscuits of your choice, it's quite possible! It's less fat and less sweet, it reduces calories quite a bit! Both choices are fine !
I used whole milk greek yogurt, but you can use any plain yogurt that you like, depending on what you can find and what you like the most. You can also flavor it with lemon, for example! Or add a spice of your choice !
To make the strawberry compote, I had fresh strawberries, but you can use frozen strawberries, it also works. You don't have to put the honey spoon in, you can just do without sugar if you prefer! You can also use any fruit to make this compote: peach, apple, pear, raspberry etc….
To assemble the verrine, I wanted to test three different orders:
Crumble, Strawberry compote, Greek yogurt
Strawberry compote, Greek yogurt , Crumble
Greek yogurt , Crumble, Strawberry compote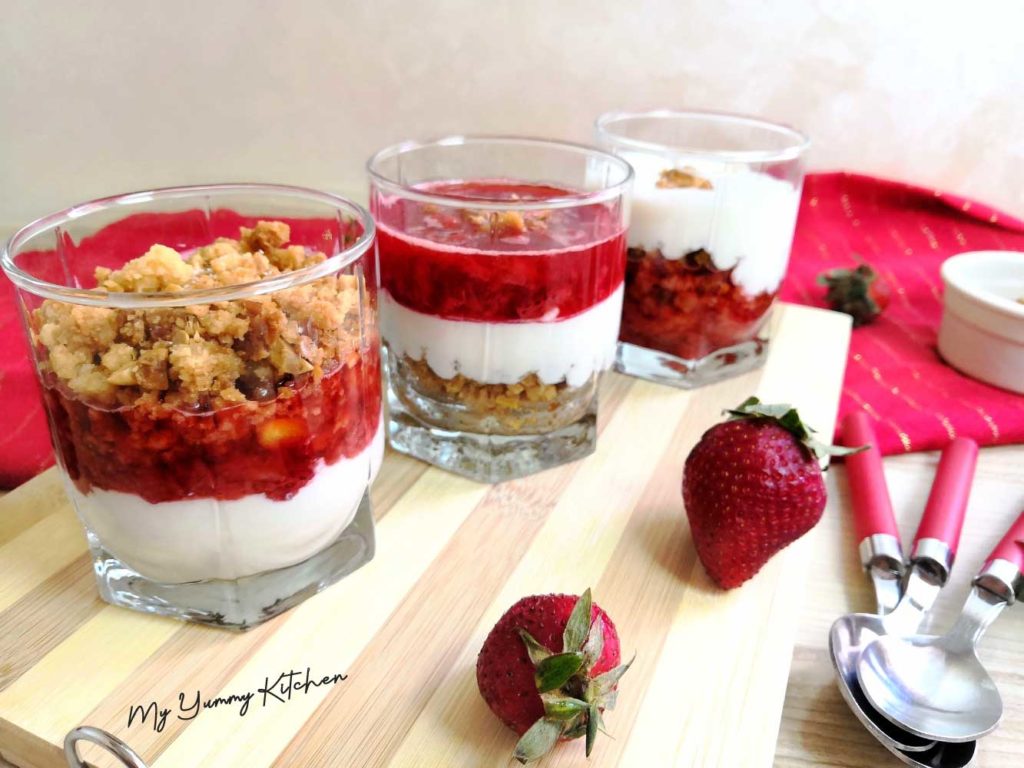 The best result came with the number 2 : every layer stood well in place ! But between you and me, they were all three very good !
To your spoons !
[mv_create key="4″ type="recipe" title="How to make a strawberry crumble and creamy verrines" thumbnail="https://myyummykitchen.net/wp-content/uploads/Verine-Crumble-Fraise-1.jpg"]