Creamy Mushrooms Fusilli
Raise your hand all pasta lovers ?? I raise both of them! Yes, I love pasta in all its forms and what I like above all is a good sauce to go with it. In fact, I think it's the sauce that makes the pasta! It's true that we often think we can make pasta when we're lazy about cooking or when we have nothing left in the fridge. But what you have to do is make a pasta dish because you want pasta! And above all you have to make a good sauce!
I love fresh mushrooms! In general, to enjoy them at their true value, I only sauté them a little in a pan, with garlic, oil and parsley. But here I wanted to make a winning combo: Mushrooms, Pasta and Heavy Cream…! Here is a tasty, delicious and so comforting dish!
Here, I used fresh mushrooms, it's always tastier to cook with fresh ones ! But frozen mushrooms can also be suitable anyway …!
To prepare the mushrooms, nothing could be simpler ! First cut off the tip of the foot and quickly put them in water (do not leave them in contact with the water for too long, otherwise they absorb water and become real sponges! ). Then wipe them with a paper towel. Peel the hats, cut the mushrooms in half and make thin slices. And they are ready to be cooked!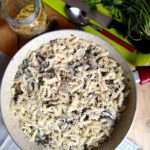 Print Recipe
Creamy Mushrooms Fusilli
Ingredients
250

g

fusilli

( 8.8 oz )

7

fresh mushrooms

1

tbsp

olive oil

1

large onion

2

cloves of garlic

1

small bunch of parsley

20

g

butter

( 0.7 oz )

200

ml

heavy cream

( 6.7 fl oz )

salt, pepper to taste
Instructions
Heat a large pot of water. When the water boils, pour in the pasta and cook for 10 minutes. Drain and set aside.

While the pasta is cooking, prepare the mushrooms: cut off the tip of the mushroom foot, quickly rinse them in clear water and wipe them with absorbent paper. Peel the hats and cut the mushrooms finely. Set aside.

Peel the onion and garlic and cut them finely.

In a frying pan over low heat, pour a little olive oil, onion and garlic. Cook for 4 to 5 minutes.

Wash and finely chop the parsley and add it to the pan with the mushrooms. Continue cooking for about 10 minutes.

Finally add the butter, let it melt and then pour in the cream.

Add salt and pepper to taste.Finally add the pasta to the sauce and mix so that all the pasta is well coated.Enjoy it hot!