White and milk Chocolate Chip Cookies ( egg free )
These cookies are a real treat, crunchy on the edges and soft inside! Their little particularity: they do not contain eggs! For the record, I had white and milk chocolate and I had a huge craving for cookies….but no egg……..! But that's not a problem: a recipe for cookies without egg, nothing impossible! So it's a great recipe, if you have a big craving for cookies, but no egg, and it's also a nice recipe for all people who are allergic to eggs! Here we go!
White and milk chocolate !
I wanted to make cookies with these two chocolates because I often tend to use dark chocolate and I wanted to change!
In this recipe, you can easily use milk chocolate only, or just white if you feel like it! You can even use dark chocolate if you prefer of course!
Mix of butter and olive oil
Here I make a mixture of soft butter (it is better that it is soft to be more easily incorporated) and olive oil. I like the taste of this oil and in these quantities it doesn't taste too much. If you are afraid to notice its taste if you don't like it, replace it with sunflower oil.
For a recipe without dairy products, you can use sunflower or rapeseed oil instead of butter. So instead of the 80g of butter and 20g of olive oil, use 50g of sunflower or rapeseed oil!
Almond powder and sugars
I really like the almond powder in this kind of biscuits, it really brings a softness and a very rich consistency …!
Brown and white sugars
If you want to get a soft cookie inside, the little trick is to use brown sugar because it is a little " moister " than white sugar. It will therefore bring softness to the dough and its particular good taste!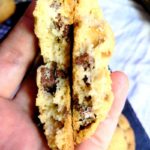 Print Recipe
White and milk Chocolate Chip Cookies ( without egg )
Ingredients
40

g

white chocolate

50

g

milk chocolate

80

g

soft butter cut into pieces

20

g

olive oil

110

g

flour

30

g

almond powder

1/4

tsp

baking powder

40

g

white sugar

40

g

brown sugar

1/4

tsp

salt
Instructions
Preheat your oven to 180°C | 350°F.

In a large bowl, mix the soft butter, oil and sugars with a spatula until the mixture is creamy.

Add the flour, almond powder, baking powder, salt and mix well.

On a cutting board, cut the chocolates into relatively large pieces.

Then add them to the batter, mix well.

On a baking sheet covered with baking paper, form 9 balls of dough without squashing them.

Take the baking tray out of the oven and place the cookies on a rack to cool a little.

Then enjoy with a glass of milk or a cup of tea 🙂