Super Soft Sandwich Bread (Without Kneading Machine)
I love sandwich bread and I've always loved it! And so does my little boy who also loves it as a sandwich or toast…! But here's the thing, when I buy it: the expiration date is often a bit too close, the bread is sometimes already a bit dry, and I won't even mention the long and weird list of ingredients … In fact, with the right recipe and the right steps, it's extremely easy to make your own homemade bread. I'm very happy with the result: I'll never buy industrial bread again ! That's it! This bread is soft, delicious, tasty and it smells so good when it's baked! It's made with ultra basic ingredients and without a kneading machine, so it's really a piece of cake!
What makes this sandwich bread so tender ?
What makes this bread so soft is simply the MILK ! There are many recipes with milk and water, often half and half …! But when you only use milk, the result is really perfect: the bread is soft, and it holds itself very well, it is not at all crumbly! It's really the perfect recipe ! Also, you should use whole milk, it comes with better results than non fat milk !
Be careful, when you add the milk, it must be lukewarm not cold, because this works with the yeast and makes it work better!
Butter also helps a lot with texture, taste and smell! It really brings a gourmet side, so irresistible! It must be very soft to be able to incorporate it at the end of the dough kneading! As you incorporate the butter, the dough will change a little bit in texture, but you have to keep kneading until the butter is well incorporated!
What flour should you use ?
For this recipe you can use either pastry flour or all-purpose flour.
For this recipe, I used pastry flour. It's better not to use a whole wheat flour as it won't really give the "sandwich bread" taste. Whole wheat flours will work very well for more rustic breads though.
What yeast should you use ?
Here, I use dry yeast ( you also could use fresh yeast ), which I put directly into the flour, without dissolving it with water. The important thing is to mix it well with the flour and sugar so that it is mixed homogeneously. Then comes the lukewarm milk, and only after the salt because it can limit the effect of the yeast if it is mixed directly with it.
Is sugar mandatory ?
In this recipe, there is 20 g ( 0.7 oz ) of sugar, but I think it is not mandatory! As we often add a sweet topping to the slices of bread, I think we can manage without sugar.
The kneading
It is often mistakenly believed that it is difficult or even impossible to make homemade bread without a machine, I believed this for a long time, but it is completely false!
All you have to do is really knead the dough well long enough for the gluten network to be sufficiently developed. For this recipe I really tried to knead my dough for 15 minutes! It's sport yes! But it's really worth it, believe me!
The baking
My loaf was relatively small and thick so I opted for 40 minutes of baking time. Which was fine. But if you make a longer and thinner loaf, you'll have to reduce the baking time to between 30 and 35 minutes.
The baking pan
I used a 24*13 cm ( 9.4*5.1 inch ) oven-proof glass dish, but you can use a standard 26cm ( 10 inch ) baking pan. So you can make a longer and thinner loaf than mine. That will work too.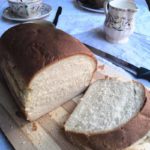 Print Recipe
Super Soft Sandwich Bread ( without kneading machine )
Ingredients
500

g

pastry flour ( 17.6 oz )

7

g

dry yeast ( 0.24 oz )

10

g

salt ( 0.35 oz )

20

g

sugar ( 0.70 oz )

300

ml

lukewarm whole milk ( 10 fl oz )

50

g

soft butter cut into small pieces ( 1.76 oz )
Instructions
First prepare all your ingredients in advance in small bowls.

In a large bowl, pour the flour, sugar, yeast and mix well.

Heat the milk slightly so that it is lukewarm. Then pour it into the preparation. Mix well with a wooden spoon.

Add the salt and stir for another minute.

Then place the dough on the kitchen countertop and start kneading the dough by hand for 15 minutes.

Then add the soft pieces of butter one at a time while continuing to knead the dough.

Place the dough in a covered bowl and let it rise for 1h30.

After 1h30, butter and flour the pan you are going to use.

Punch down the dough to release the air and make a loaf of the size of your pan.

Place the loaf in the pan and cover it, leave it to rise for another 30 minutes.

10 minutes before the end of the rise time, preheat your oven to 180°C | 350°F.


Once the 30 minutes have passed, put your bread in the lower part of the oven for 40 minutes.

Remove your bread from the pan while it is still warm and let it cool on a rack.

Once cooled, it's time to taste it 🙂