Easy to make Chocolate Truffles (2 ingredients only)
You won't be able to resist these delicious chocolate truffles … They are so simple to make and …so good ! A pure chocolaty and savoury treat ! You will only need two ingredients to make this recipe : so easy and handy ! You will be delighted by the result… Try this homemade recipe right now, trust me !
To make these delicious truffles, nothing could be simpler, all you need is sweetened condensed milk and cocoa powder! The mixture of the two gives a paste that will harden slightly in the refrigerator. You can then cut squares out of the paste and shape them into balls. All you have to do is coat them with cocoa powder, and it's ready!
Be careful, you have to use sweetened condensed milk! It has a thick and sticky texture which is important for the recipe, as it will give the dough its consistency. Unsweetened condensed milk has more of a milk texture and will not work!
For the cocoa powder, of course use 100% cocoa powder, no chocolate milk powder for breakfast!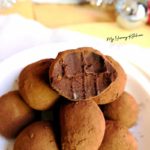 Print Recipe
Easy and Quick Chocolate Truffles ( 2 Ingredients Only )
Ingredients
100

ml

condensed milk ( 3.38 fl oz )

50

g

100% cocoa powder ( 1.7 oz )

30

g

100% cocoa powder ( for coating ) ( 1 oz )
Instructions
Pour the condensed milk into a large bowl and microwave for 30 seconds.

Then pour the cocoa powder over the condensed milk using a sieve.

Then stir with a spatula until the cocoa and milk are well combined. Finish mixing the paste by hand.

Make a flat disc from the dough, wrap in cling film and let it chill for 1 hour in the refrigerator.

Remove the dough from the fridge, and place it on a cutting board. Then cut the dough into several squares.

In a plate, pour into a sieve 2 tablespoons of cocoa powder.

Take a square of chocolate paste in your hand and knead it until a uniform ball.

Do the same for each square.

Place all the balls on the cocoa powder and roll them up so that each ball is well coated with cocoa.

You can eat them right away or put them in a air tight container and keep them in a cool place for several days.