Creamy Mozzarella Chicken |Keto friendly|
Here is a simple and very delicious chicken recipe…! This oven cooked chicken in the heavy cream brings such a soft texture to it, so much satisfaction…! The chicken is well seasoned with garlic and the sauce is highly creamy, a delight!
Oven cooking
This cooking method is great for several reasons.
First of all, oven cooking is convenient as you don't need to stay in front of the pan for 30 minutes to keep an eye on it. You place the dish in the oven, stay closed by and turn it off after 30 minutes. Very practical, it allows you to prepare other meals, do other tasks, or simply watch Netflix, depending on the day, which may be useful!
Plus, the chicken breast baked in such a creamy mixture (heavy cream and water) makes the flesh so soft that it would be a shame not to try it ! Chicken breast can be difficult to eat sometimes. Depending on the cooking, it can be dry, not very pleasant…! By cooking it this way, the chicken melts in your mouth, it's really very satisfying…!
Spices and aromatic herbs
Here, I use a combination of thyme, garlic, onion, salt and pepper, and the result is very tasty! You can of course add or replace with whatever you want! You can think of other spices: coriander, oregano, cumin, curry….. Let's not forget also the aromatic herbs: parsley, coriander, basil, they flavor the dishes so well!
The cheese
I didn't put a lot of cheese on it! Only a few slices of mozzarella cheese on the chicken at the end of the cooking. They bring a delicious texture, it balances very well the taste of the chicken! But you can of course add other sort of cheeses. For example, you can mix Gruyere cheese or Parmesan cheese with the heavy cream. You will get a great "cheesy" result!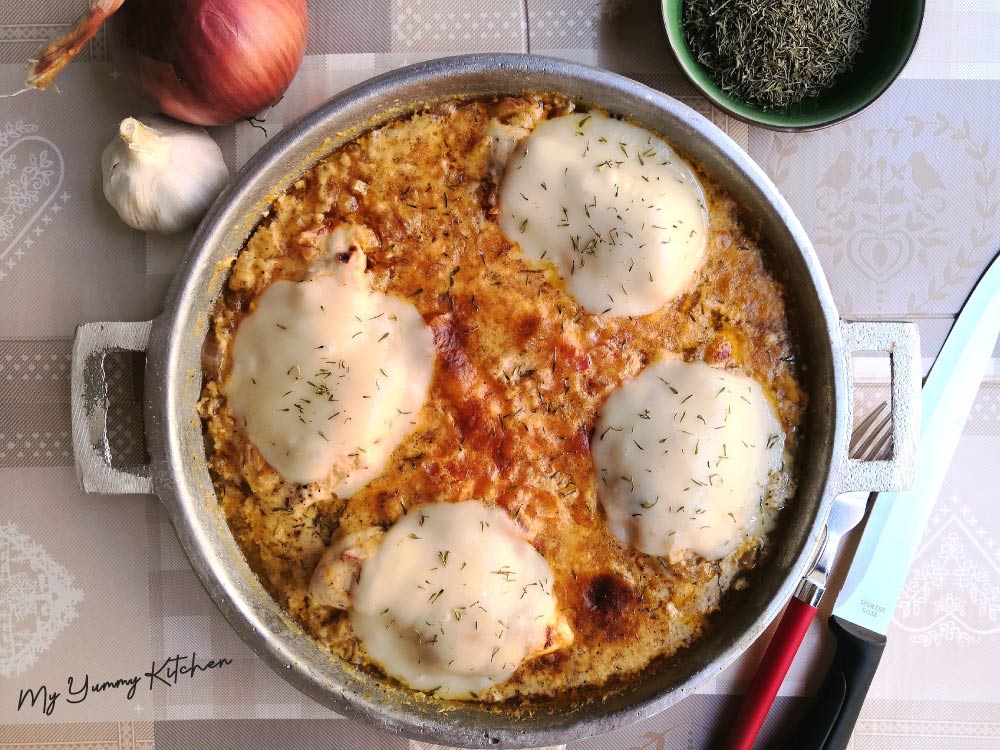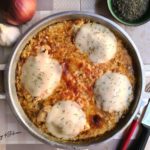 Print Recipe
Creamy Mozzarella Chicken |Keto friendly|
Ingredients
500

g

chicken breast (1.1 lb )

250

ml

heavy cream ( 1 cup )

30

ml

water ( 2 tbsp )

180

g

sliced mozzarella cheese ( 6.4 oz )

2

cloves of

garlic

1

small

oignon

1

tsp

thyme

salt, pepper
Instructions
Preheat your oven to 180°C | 350°F.

Cut each chicken breast in two or three lengthwise slices so that they are not too thick.

Peel the garlic cloves and cut each cloves in 4 pieces. Make incisions in each piece of chicken and insert the pieces of garlic in it.

Season each piece of chicken with salt and pepper and place them in an ovenproof dish.

Cut the onion into thin slices and add it to the dish.

Pour the heavy cream (previously mixed with water) over the chicken.

Add thyme, salt and pepper and bake for 25 minutes.

Remove the dish from the oven and add the mozzarella cheese slices on the chicken slices, then bake again for 5 minutes.

Enjoy hot and melted!