Oven Roasted Cabbage
This healthy recipe of baked cabbage will reconcile you with this vegetable! White cabbage is excellent for your health and for your shape! He is one of your best friend in both a weight loss or a vegan diet! Moreover, if you are on a low carb, paleo or Keto diet, you can enjoy it in your meals by adding some Healthy fats. Such as butter, coconut oil, olive oil and more! Indeed, accompanied with good proteins, good fats and spices, you will get a delicious low-carb meal! Believe me, you'll be seduced by these grilled and crispy cabbage slices, it's tasty and very healthy! Just try it and you will see.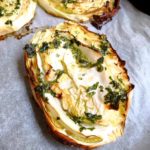 Print Recipe
Oven Roasted Cabbage
A very easy baked white cabbage recipe
Ingredients
1/2

white cabbage

2

tbsp

butter

~ 30 g

1

tbsp

olive oil

15 g

1

clove

garlic

crushed

1

small bunch of parsley

salt, pepper
Instructions
Preheat your oven to 180°C / 356°F.

Wash the cabbage, cut it in half, we'll only need half of the cabbage. So cover one half with a cling film and keep it in a cool place for another recipe.

Cut the remaining half of the cabbage into 4 to 5 slices.

Place them on an ovenproof baking sheet covered with baking paper.

Melt the butter in the microwave. Add to the melted butter, the olive oil, the crushed garlic (with a garlic press), the parsley chopped finely, salt and pepper. Mix well.

Use a teaspoon to pour the butter mixture over all the cabbage slices so that they are well covered. turn the slices and repeat

Bake for at least 25 minutes, up to 30 minutes if you want them to be more crispy.