THE Ultimate Burger Sauce
If you're a burger or sandwich lover, stop everything and read this article! This is THE sauce that will make any burger DELICIOUS! It's smooth and tasty, sweet and sour, with a hint of vinegar! Anyway, it's the sauce to know and make when you're about to make a sandwich!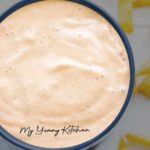 Print Recipe
THE Ultimate Burger Sauce
Ingredients
For the mayonnaise
1

egg yolk

1/2

tsp

mustard

1

tsp

vinegar

200

ml

vegetable oil ( 6.7 fl oz )
The rest of the ingredients
1

tbsp

ketchup

2

tbsp

heavy cream

1/4

small onion ( grated )

1/2

clove of garlic ( grated )

1

pickle (grated)

1

tsp

sugar

1/2

tsp

paprika

1

pinch salt, pepper
Instructions
For the mayonnaise
In a bowl, pour an egg yolk and mustard. Mix well.

Then add the vinegar, salt and pepper and whisk well until the salt is completely dissolved.

Add a drizzle of oil and whisk well to make the mayonnaise thicken.

Pour the oil in very small quantities until the desired amount of mayonnaise is obtained (200 ml/6.7 fl oz is just a general indication).

Whisk well all the way through so that the mayonnaise is firm.
Last steps
In a bowl, mix two tablespoons of mayonnaise with one tablespoon of ketchup and two tablespoons of heavy cream.

Then add the grated garlic, onion and pickle. Mix well.

Then add the sugar, paprika, salt and pepper. Mix well.

Keep in a refrigerator while using it.
As you wish !
So here's the famous recipe! Well, you must think it's quite simple…! Ans Yes it is! But a good sauce is not necessarily complicated to make ! You just have to mix ingredients that will go well together and you have your sauce ! So, it's the same, according to your taste you can always modify it ! Let's say that it's already a good start, then it's up to you to make it according to the burger or the sandwich you're going to make!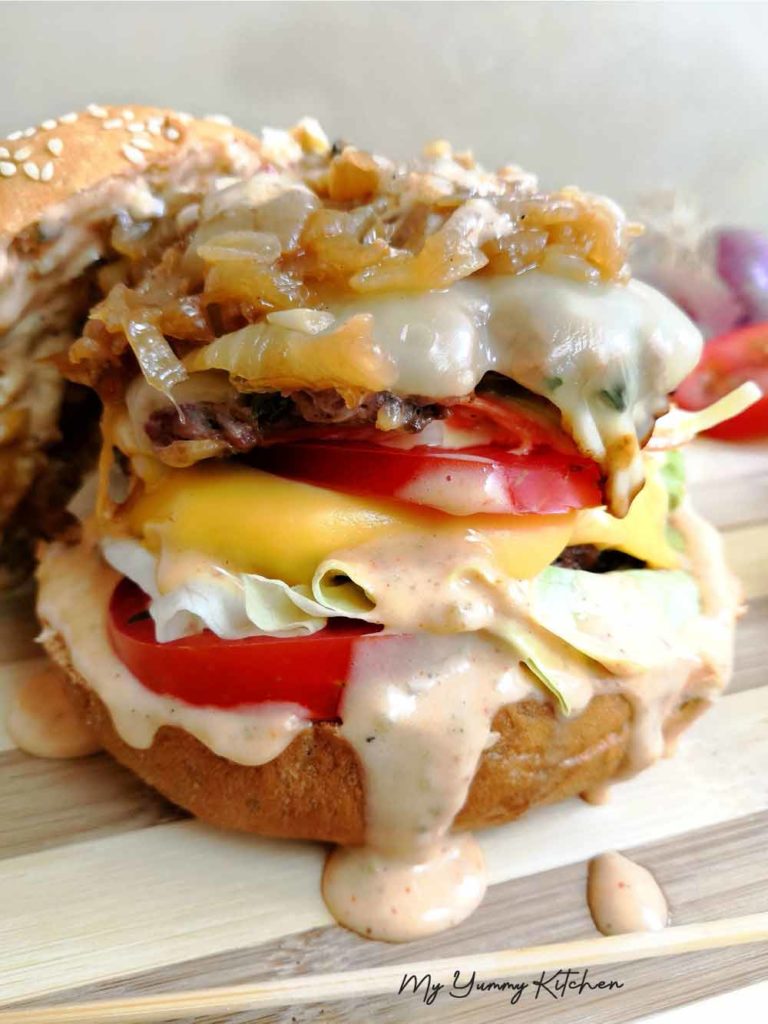 The Mayonnaise
As for mayonnaise, if you don't want to bother making a homemade one, it also works with store-bought mayo! Personally when I'm thrown into a good burger or sandwich, I like to go all the way! And a mayo is not very difficult to make. It must also be said that homemade mayonnaise is tastier and richer than store-bought mayo! So: WE LOVE!
Heavy ceam or yogurt ?
Here I've put some heavy cream, because I find it tastier! But you can make the same sauce with plain yoghurt or greek yogurt, it will be lighter! It also gives a different taste, but if you like it, it's quite possible! Speaking of light, I also put sugar in this recipe, but you can do without if you want ! The ketchup is already sweetened so it's quite possible!
Those little extras
What I like in this sauce is the grated garlic and pickle! I love garlic in general, I use it in almost all my dishes! And the pickle gives a sour touch that I love! It really gives a little twist to the sauce that makes all the difference in my opinion!
An all-purpose sauce
I made this sauce especially for a burger, and by the way it can really go in any burger ! I think it would go very well in sandwiches or croque-monsieurs ! Or on blinis, pita bread, salty pancakes ! Really it's a sauce that goes very well with raw vegetables and proteins, in many recipes ! So enjoy it, treat yourself!