Zaalouk, The Moroccan Eggplant Caviar
Eggplants can be so good…! It's a vegetable that you can't eat raw, but it goes so well with so many dishes that it's impossible to do without it!
There are lots of different kinds of eggplant caviar! Recipes from all over the world, each with their own little particularities! Today, I share with you the recipe for Zaalouk, the eggplant caviar often seen in Morocco! It is served as a starter, or as side-dish to go with meat or fish. It can be eaten simply with a fork but also with bread!
It's very easy to make and it's a really delicious eggplant recipe!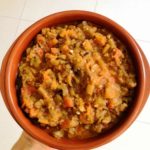 Print Recipe
Zaalouk, the Moroccan Eggplant Caviar
Ingredients
4

eggplants

2

tomatoes

2

cloves of garlic

20

parsley leaves

1

tsp

cumin

1

tsp

paprika

2

tbsp

olive oil

salt, pepper to taste
Instructions
Wash and peel the eggplants, leaving every second strip of skin. Cut them into small pieces and cook them in a boiling saucepan for about 7 minutes.

Meanwhile, wash and peel the tomatoes. Cut them into small pieces, as well as the garlic.

In a frying pan, pour a tablespoon of olive oil and add the tomatoes and garlic. Cook over low heat for about ten minutes.

After 7 minutes, drain the eggplants and put them in the pan with the tomatoes. Also add the chopped parsley, spices, a final tablespoon of olive oil, salt and pepper (to taste).

Continue cooking, crushing the eggplants and tomatoes a little until you almost get a puree.