Chocolate Lava Cake For Valentine's Day
It's rich, it's melting, it's full of chocolate … it's the Chocolate Lava Cake …! An irresistible little dessert and what better way to end a Valentine's Day romantic meal ? With this little dessert, you will be melting your sweetheart! It is so tasty, you can't resist it…!
Chocolate is preceded by its reputation: yes it is an excellent aphrodisiac! So what better way to end a Valentine's Day meal ! Among the Aztecs, it was widely consumed for its euphoric effect and its contribution in endorphins, hormones of pleasure!
What ingredients should you use for this lava cake ?
This chocolate cake recipe is not only delicious but also very quick and easy to make!
Dark Choclate
Chocolate is the most important ingredient in this recipe! That's why I used high quality 73% of cacao dark chocolate chips. You can use whatever chocolate bars or chips you want but I think dark chocolate is best!
Room temperature butter
The butter must be at room temperature so that it can be incorporated more quickly into the melted dark chocolate!
Cornstarch
In this recipe, there is very little cornstarch, it's normal, I really want a super "lava-y" result! Besides, I prefer to use cornstarch rather than flour, it's lighter for the desired effect!
Instant coffee
Coffee is very important here! You won't feel it, don't worry! By the way, I recommend a teaspoon but you can put 1/2 or 3/4 tsp of instant coffee if you prefer. A little bit of coffee in this kind of recipe really enhances the taste of chocolate, to really bring out its aroma!
Pinch of salt
And let's not forget the salt, which is a flavour enhancer and so helps to give maximum flavour to this dessert!
What kind of cake pan should you use ?
I used 5 ramekins of 7.5 cm ( 2.7-inch ) diameter and 3 cm ( 1-inch ) deep ( about 4 ounce capacity ), which I filled 3/4 full. They are small ramekins, but perfect for this kind of full chocolate cake! You can obtain 6 small cake by filling them a little less.
If you don't have ramekins, you can use a muffin pan. This will make smaller lava cake, but it works too! You will also need to reduce the baking time by 3 to 4 minutes depending on the size of the cups.
The lava cake can be eaten in the ramekins, but they can also be removed from the ramekins. To do this, don't forget to butter them well and to add a thin layer of flour, sugar or cocoa, so that the removal from the ramekins goes smoothly!
Topping
You can add a scoop of vanilla ice cream, raspberries or caramel! This is a very tasty dessert and so delicious …!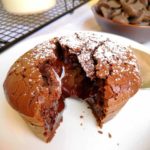 Print Recipe
Chocolate Lava Cake for Valentine's Day
Ingredients
180

g

dark chocolate bar or chips ( 73% of cocoa ) ( 6.3 oz )

100

g

room temperature butter ( cut in small pieces ) (3.5 oz )

80

g

sugar ( 2.8 oz )

3

eggs

80 

g

cornstarch (2.8 oz )

1

tsp

instant coffee

1/2

tsp

salt
Instructions
Melt the chocolate chips or chopped chocolate bars in a double boiler.

When it is melted, add the butter and stir until the butter is incorporated. Set aside.

In a large bowl, whisk together the eggs and sugar.

Then pour the melted chocolate to the egg/sugar mixture, and add the cornstarch, coffee and salt.

Mix well and let it chill in the fridge for an hour.

After one hour, preheat your oven to 200°C | 390°F.

Grease the ramekins well with butter and a thin layer of flour.

Pour the batter into the ramekins and bake for 15 minutes.

Wait for the ramekins to cool before eating.

You can leave the lava cakes in the ramekins or remove them!
Notes
If you want another chocolate sweet treat, you can see the delicious macarons recipe : French Chocolate Macarons ! They are a real delight !