TIRAMISU, Sugar-free, Keto, LCHF, Gluten-free (the easy way)
Today I want to share with you the ultimate Tiramisu. It is delicious, it is super tasty, it is a frustration killer … and it is Keto friendly! Yes ! We have a cream and we have a soft coffee biscuits… This recipe is very easy and quick to make! A cake that can be made in the morning for the evening or the day before … in short, it is perfect.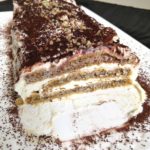 Print Recipe
TIRAMISU, Sugar-free, Keto, LCHF, Gluten-free (the easy way)
A very delicious Tiramisu, for keto and lchf diets
Ingredients
For the sponge fingers
3

eggs

50

g

of almond powder

(1.75 oz)

1/4

tsp

baking soda

1

tsp

liquid sweetener equivalent to 50g of sugar

150

ml

of strong coffee
For the cream
260

g

of mascarpone

(9.17 oz)

100

g

of cream cheese

(3.5 oz)

1

tsp

liquid sweetener equivalent to 50g of sugar
For the topping
1

tsp

100% cocoa powder

1

tsp

almonds in small pieces
Instructions
Preheat the oven to 210 °.

Separate egg whites from egg yolks.

Beat the egg whites. Set aside.

Add the sweetener to the egg yolks and whip until the mixture become pale yellow.

Add the baking soda, mix, then add the almond powder and mix well.

Gradually add the whipped egg whites to the yolks.

Pour the mixture into a pastry bag and spread the dough with shapes of fingers on baking paper.

Bake 10 to 12 minutes.

Then take them out and let them cool down.

Then, whisk the Mascarpone, the Cream Cheese and the sweetener (1tsp in my case).

On a plate, first spread a very small portion of the Mascarpone mixture, then place biscuits dipped in coffee and add over a layer of mascarpone mixture. Continue until you have no biscuits left. Keep enough mascarpone mixture to put on the sides of the cake.

Sprinkle the cake with a some cocoa powder and some almonds pieces.

refrigerate for at least 6 hours.

Then taste and enjoy!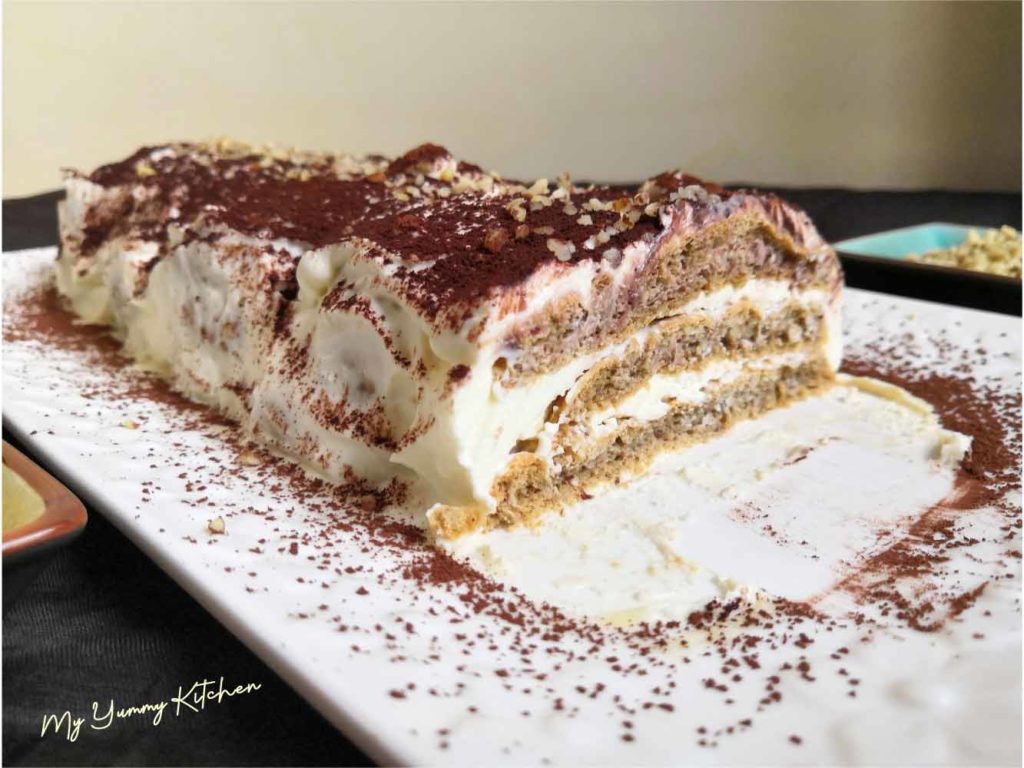 First, a few words to describe this perfection … It is therefore a ketogenic Tiramisu with very low level of carbs! For those who follow the keto diet, here is a perfect recipe for any occasion: a birthday, an evening with friends, a dessert for a romantic dinner or so … no special occasion ! Well yes, we may just want to enjoy a delicious and frustration killer cake ! If you want to have other ideas for recipes, take a look at my super delicious Keto Chocolate Mousse. A lot of Sugar-free, max pleasure recipes are coming very soon on my blog.
At the risk of repetition and for those who don't know the ketogenic diet, this recipe is SUGAR FREE! It is not with no added sugar, it is without sugar! It's very simple, I use a sweetener instead! To best respect the keto diet, I use a sweetener "0 net carbohydrate", it is very important. But for those, like diabetics or those who just want to reduce their sugar intake, you can use just about any low glycemic index sweeteners, while keeping in mind, that they are not equal at all and some represent a potentially health risks. I will discuss this topic in more detail in a future article.
This tiramisu cake is also suitable for people who follow a Low Carb High Fat diets (LCHF). Indeed, the biscuit is mainly composed of eggs and almond powder, and the cream is composed of Mascarpone and cream cheese.
Last but not least, this delicious cake is also gluten-free! Perfect for allergic and intolerant to gluten or those who prefer to avoid consuming it.
The traditional Tiramisu is made with Mascarpone cream, coffee and Ladyfinger (biscuit). For our recipe, it's very simple, we replace the ladyfingers with a biscuit very low in carbohydrates and sugar-free, made from almond powder!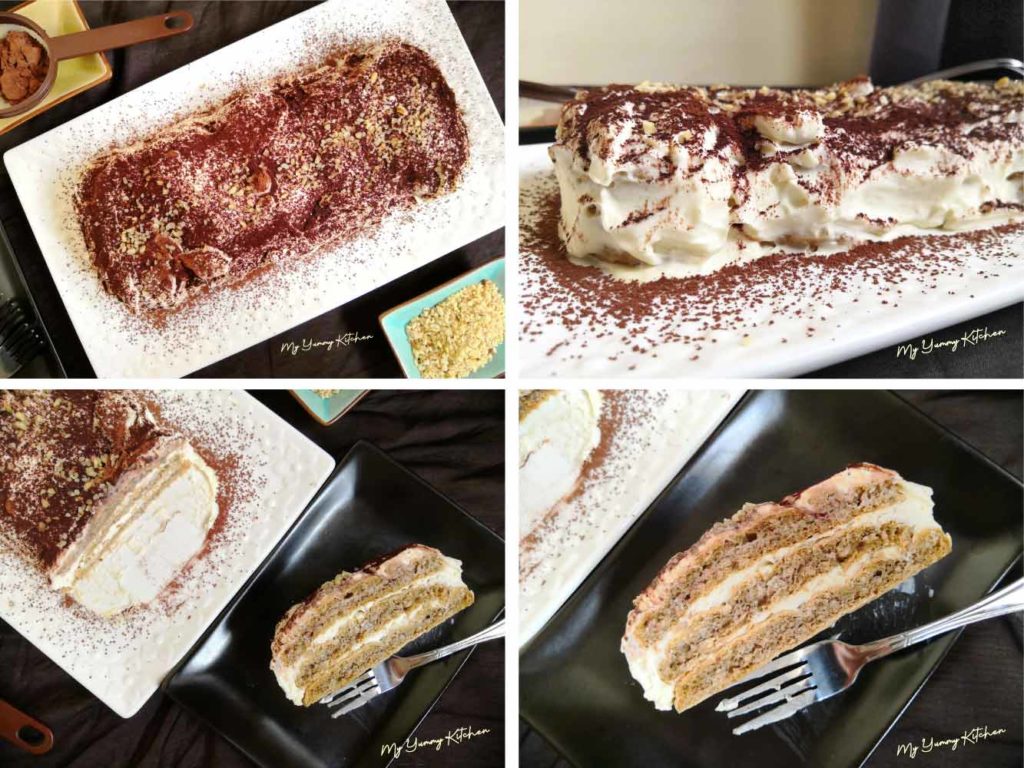 For the biscuit and the Mascarpone cream, I used here, as mentioned above, a liquid sweetener "0 net carbs". You can of course use any "0 net carbs" sweetener that you have on hand, the bests being Erythritol, monk fruit or stevia. For the quantity, it will depend on the sweetening power of your sweetener. I put here a teaspoon (about 5ml), equivalent to 50 grams of regular sugar, but you can put more or less, depending on your taste preferences!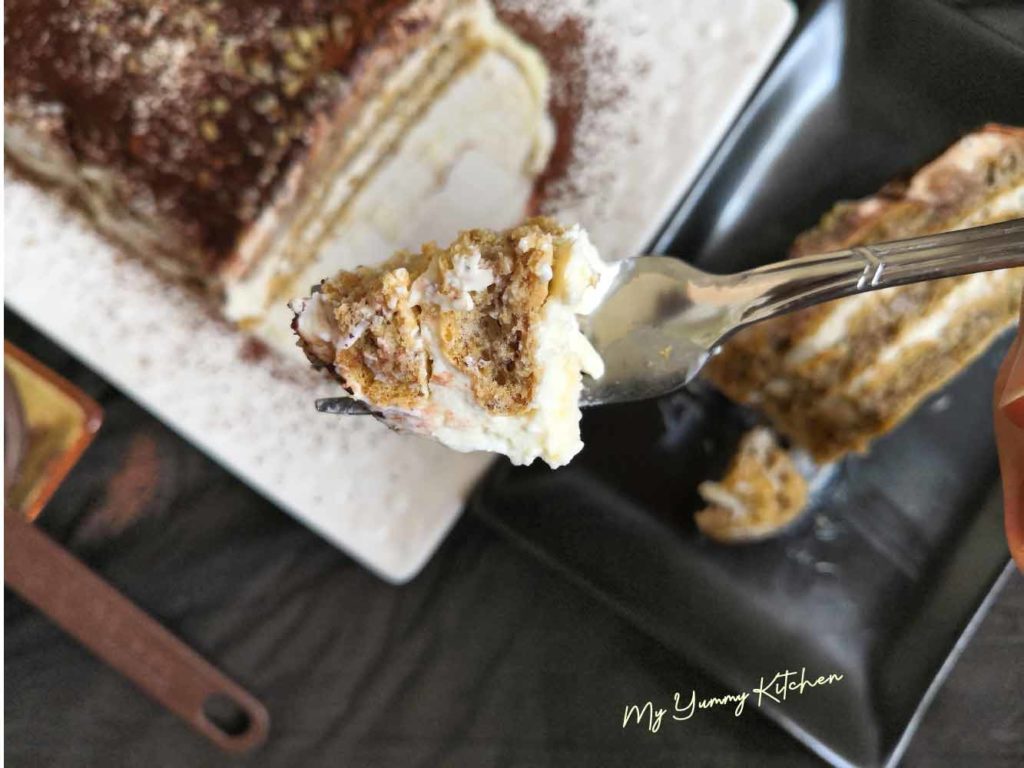 You can find the almond powder in any food store. But you can do it by yourself! It's very simple: cook the raw almonds in the oven for 10 minutes at 180 °. Once cooked, Place the almonds, in the food processor, pulse until they're ground into a sand-like texture. You can use a sieve to get a very fine powder! And here is a quick homemade almond powder!