Keto Lemon Raspberries CheeseCake
I think this cheesecake needs no introduction… You see the pictures, right? Well, it's as good as it is beautiful, believe me! And if you have any doubts, try it and tell me yoursel ! It is rich and creamy, it has its tangy side, and the raspberries bring their freshness… It's delicious…! Plus, it is very simple and quick to make, it is ketogenic, sugar-free and low-carb…. Anyway, if you follow the ketogenic diet or if you don't eat sugar, your craving for cheesecake will quickly be satisfied by this creamy and raspberries-loaded delight…!
Cake pan and quantities you'll need
I used a 5-in baking cake ring, it makes a perfect size-wise cake for a small sweet craving! Of course, you can use a larger ring, just adjust the quantities.
You can use any cake pan you'll have at home, it doesn't really matter. Depending on what you have, you can use : cake baking ring, cake pan or springform pan.
The Cheesecake Biscuit
To make a cheesecake biscuit, it's very simple! The base is made with an oilseed powder (often almond powder) and a fat ingredient.
Almond powder
Almonds are often used in the ketogenic diet to substitute the all purpose flour because they contain about 9g of net carbohydrates per 100g. This is one of the lowest rates in the oilseed family.
You can find ready-to-use almond powder quite easily in stores. My advice however : taste it before using it in a cake, because depending on the quality of the almonds, you may be a little surprised by the taste! Otherwise, it's very easy to make them at home. Preheat your oven to 180°. Spread the necessary quantity of blanched almonds on baking paper on a baking sheet and bake for 8 minutes. Take them out of the oven, wait a few minutes and put them in a blender or chopper. Then mix them for a few minutes until you obtain a pretty fine powder. You can then sift the powder through the sieve to keep only the finest powder. There you go!
Can I use anything other than butter?
For this recipe, I use butter. This may be the most effective fat for this type of no-bake cake because the butter, once melted and mixed with the almond powder will set and harden in the fridge and form the "cement" of the base. You could also use coconut oil. It will also harden when in contact with fresh air of the fridge. However, it will give a particular taste to the biscuit base, so you must like its taste!
So that's it for the 2 main ingredients of the base of this cake. You can also add sweetener if you want a slightly sweeter taste. You can also flavor this base with cinnamon, grated coconut or 100% cocoa powder. It's really up to you !
What ingredients should I use for the cream?
The cream is made of mascarpone, sweetener, heavy cream and lemon juice.
The mascarpone cheese
Mascarpone cheese is widely used in Keto recipes! It is an Italian cheese mostly composed of lipids, perfect to comply with the ketogenic diet. It is consistent, but creamy when whiped with a whisk. It is ideal for this type of cake, especially when it is stored in a cool place for several hours. If you can't find mascarpone cheese or don't want to use it, you can use cream cheese.
The sweetener
You can use the sweetener of your choice, the most important is to pay attention to the equivalences in terms of sweetening power and the ingredients that compose the product. You really have to be careful about the ingredients of the sweeteners that you find on the market. Indeed, the vast majority of brands add "low costs carbs " to lower the selling prices. The most common example is the presence of maltodextrin or dextrose in stevia, which are strictly banned as part of a ketogenic diet. Here I used saccharin, but I advise you to use either erythritol, monk fruit or stevia. These products do not have any harmful effects on health. Erythritol and monk fruit are sold in granular form and looks like sugar…. For cooking and baking they are a very good alternative.
The cream
Heavy cream is very important. It will be whipped and bring lightness and smoothness to the cheesecake. For this recipe you can use either heavy cream or whipped cream.
In any case, the bowl and whisk or beaters you use must be very cold. I usually put them in the freezer about 15 minutes before I start my recipe. The cold really helps the cream to rise easily and quickly.
Lemon
The lemon juice gives a delicious tangy taste! You can use more if you like the taste! You can also decide not to use any at all, it's up to you!
Raspberries, or other berries?
In this recipe, I use half cup (100 g) of fresh raspberries but you can also use frozen raspberries. In the keto diet, not many fruits are allowed! Only the fruits with the lowest carbohydrate level are allowed! This is why berries are the most suitable: raspberries, blackberries, strawberries or blueberries. Depending on their sugar level, we have about 4g to 9g of net carbohydrates per 100g, which is acceptable. For this recipe, you can adapt the fruit and its quantity according to your taste and restrictions!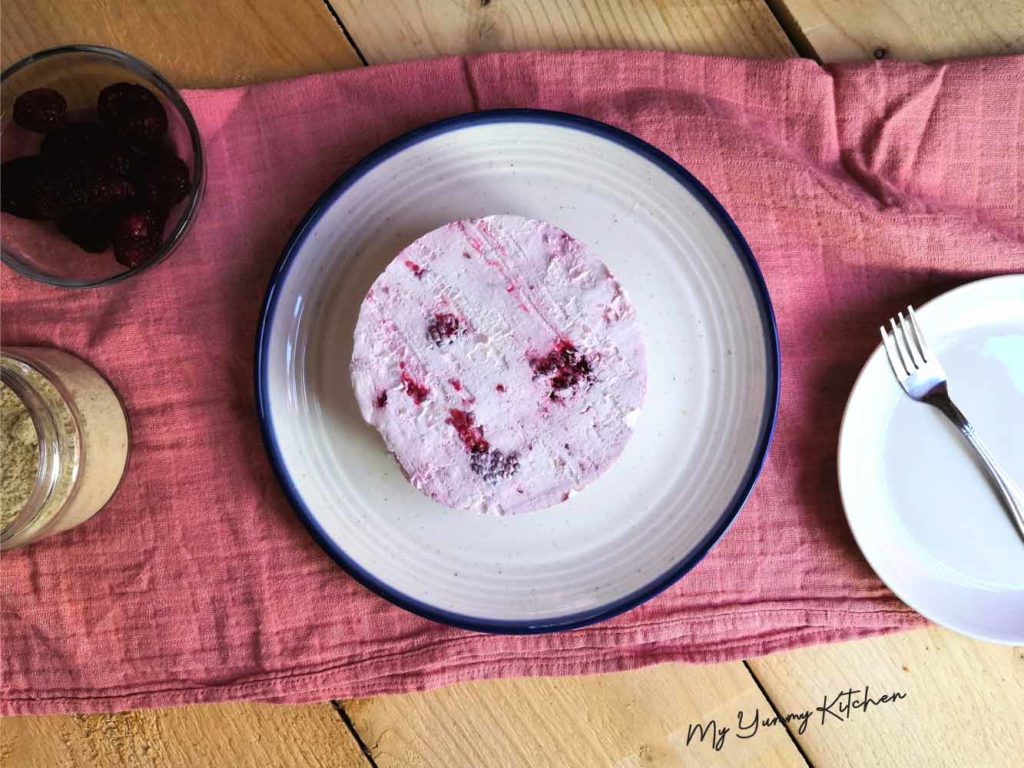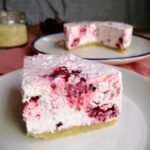 Print Recipe
Keto Lemon Raspberries CheeseCake
Ingredients
50

g

almond powder (1/2 cup)

20

g

butter (0.7 oz)

80

g

mascarpone cheese ( 2.8 oz)

40

g

of erythritol (1.41 oz) equal to 30g/1.06oz of regular sugar.

1/2

lemon pressed ( juice )

100

ml

heavy cream (3.5 oz)

100

g

raspberries (1/2 cup)

( fresh or frozen )
Instructions
Place your bowl and whisks or batters, you will use for the whipped cream, in the freezer.

Melt the butter in the microwave for 1 minute.

In a bowl, pour in the almond powder and melted butter. Mix well.

Place a cake baking ring on a plate, and pour into the butter and almond powder mixture. Flatten the dough well with a glass so that the dough is compact and at the same level over the entire surface. Set aside in the fridge.

In a large bowl, pour the mascarpone and whisk it well with a whisk for 2 to 4 minutes.

Add the sweetener and juice of half a lemon. Mix well until the mixture is well combined. Set aside.

Remove the bowl and whisk or batters from the freezer. Pour the heavy cream into the bowl and start whipping the cream. After 4 to 5 minutes, the whipped cream is ready.

Gradually add the whipped cream into the mascarpone mixture. Whip it well until everything is well combined.

Finally add the raspberries and mix gently.

Take the cake baking ring out of the fridge and pour in the creamy preparation.

Put it back in the fridge for 12 hours.

After 12 hours, take the cake out of the fridge and wait 15 to 20 minutes before removing the cake ring.

To remove the cake ring, heat the ring by touching it with your hands for a few minutes and start moving the ring gently. Then, gently slide it up to remove it from the cheesecake.

You can set the cheesecake aside in the fridge until you taste it.